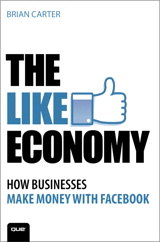 Description
The Like Economy offers a complete, start-to-finish plan for making money on Facebook! Brian Carter offers step-by-step techniques and practical lessons drawn from his eleven years of experience helping companies double and triple their revenue online. This 100% revenue-focused book is packed with detailed techniques and useful case studies. Executives, managers, entrepreneurs, and marketers will find:
Clear, up-to-date answers about how Facebook can help their companies make money¿
¿Specific guidance on using Facebook to support and supercharge existing marketing programs
¿Detailed insights for crafting Facebook programs that reflect their unique products, services, and customers¿
¿Up-to-the-minute techniques for attracting super-cheap, targeted clicks and fans with Facebook ads
¿Indispensable help with creating pages that repel negative "brand-bashers"
Proven solutions for increasing visibility, deepening customer interactions, and translating community into profits
Drawing on his unsurpassed experience, Carter brings together today's most profitable techniques for copywriting, pay-per-click, influence, community management, online advertising/marketing, and more. Readers won't find hype, generalities, or old techniques that haven't worked in years. Every page of this concise, straight-to-the-point book is focused on one goal: earning maximum ROI from Facebook right now.
Table of Contents
1 The Like Effect: The Power of Positive Marketing . . . . . . . . . . . . . 1
Likes Decrease Costs and Increase Profits . . . . . . . . . . . . . . . . . . . . . .2
Likes Increase Sales . . . . . . . . . . . . . . . . . . . . . . . . . . . . . . . . . . . . . . . . . . . . . . .2
Likes Give You Control of the Customer Conversation . . . . . . . .3
Likes Prove People Are Paying Attention . . . . . . . . . . . . . . . . . . . . . . .3
Likes Solidify Loyalty . . . . . . . . . . . . . . . . . . . . . . . . . . . . . . . . . . . . . . . . . . . . .4
Likes Create Evangelistic Customers . . . . . . . . . . . . . . . . . . . . . . . . . . . . .5
There's No Dislike Button . . . . . . . . . . . . . . . . . . . . . . . . . . . . . . . . . . . . . . . .5
Can You Do Fear-Based Marketing on Facebook? . . . . . . . . . . . . .6
Google and Wikipedia "Like" the Like Button . . . . . . . . . . . . . . . . . .6
Facebook Is About Passions and Interests . . . . . . . . . . . . . . . . . . . . . . .7
How Often Do Facebookers Like Things? . . . . . . . . . . . . . . . . . . . . . . .8
Facebook Users Are More Trusting . . . . . . . . . . . . . . . . . . . . . . . . . . . . . .9
Facebook Groups: Off-the-Charts Positivity . . . . . . . . . . . . . . . . . . . .9
Facebook Page Brag Boards . . . . . . . . . . . . . . . . . . . . . . . . . . . . . . . . . . . . .10
Easy Testimonials . . . . . . . . . . . . . . . . . . . . . . . . . . . . . . . . . . . . . . . . . . . . . . . .10
I Just Posted to Say "I Love You" . . . . . . . . . . . . . . . . . . . . . . . . . . . . . . .10
Emotions on Facebook Are Contagious . . . . . . . . . . . . . . . . . . . . . . .11
Gross National Happiness . . . . . . . . . . . . . . . . . . . . . . . . . . . . . . . . . . . . . . .11
2 You Can't Tell a Facebook by Its Cover: The Case for
Facebook Marketing. . . . . . . . . . . . . . . . . . . . . . . . . . . . . . . . . . . . . . . . . . . . . . . . . 13
Why Facebook Marketing Is So Important . . . . . . . . . . . . . . . . . . . .14
Facebook Is the Biggest Thing Since Google and
Might Be Bigger Than Google . . . . . . . . . . . . . . . . . . . . . . . . . . .14
The Facebook Ad Platform Is the Most Powerful
Marketing Tool in History . . . . . . . . . . . . . . . . . . . . . . . . . . . . . . .16
Google Dooms You to Price Wars, Whereas Facebook
Creates Loyalty and Increases Your Value . . . . . . . . . . . . . .16
Facebook Fans Are the New Email Subscribers . . . . . . . . . . . .17
Facebook Is Heir to the Browsing Empire Yahoo! Lost . . .17
00_9780789749062_fm.qxd 11/8/11 9:08 AM Page IV
Myths and Misconceptions About Facebook for Business . . . .18
Social Media Users Don't Buy Products . . . . . . . . . . . . . . . . . . . .19
Social Media Users Don't Buy Soon Enough and the
Sales Cycle Is Too Long . . . . . . . . . . . . . . . . . . . . . . . . . . . . . . . . . .22
Twitter Is the Only Social Media Channel Worth Using . .23
Facebook Is Just for Kids . . . . . . . . . . . . . . . . . . . . . . . . . . . . . . . . . . . .27
People Don't Click On Ads . . . . . . . . . . . . . . . . . . . . . . . . . . . . . . . . . .29
Who Harbors These Misconceptions and Why? . . . . . . . . . .29
Some Businesses Profit on Facebook, and Some Don't . . . . . . .30
Common Mistakes . . . . . . . . . . . . . . . . . . . . . . . . . . . . . . . . . . . . . . . . . . .30
Success Stories . . . . . . . . . . . . . . . . . . . . . . . . . . . . . . . . . . . . . . . . . . . . . . . .31
Here's What Facebook Marketing Successes and
Failures Do Differently . . . . . . . . . . . . . . . . . . . . . . . . . . . . . . . . . . .32
Facebook's Strengths: Advantages for Your Business . . . . . . . . . .32
3 FaceFirst: How Facebook Fits In to Your Business and
Other Marketing Efforts . . . . . . . . . . . . . . . . . . . . . . . . . . . . . . . . . . . . . . . . . . . . 33
How Is Social Media Supposedly Changing Business? . . . . . . . .34
Conversation . . . . . . . . . . . . . . . . . . . . . . . . . . . . . . . . . . . . . . . . . . . . . . . . .34
Transparency, Honesty, and Trust . . . . . . . . . . . . . . . . . . . . . . . . . .35
Availability and Responsiveness . . . . . . . . . . . . . . . . . . . . . . . . . . . .36
Marketing . . . . . . . . . . . . . . . . . . . . . . . . . . . . . . . . . . . . . . . . . . . . . . . . . . . . .37
Evaluating Social Media Experts . . . . . . . . . . . . . . . . . . . . . . . . . . . . . . .38
What Businesses That Profit from Facebook Do . . . . . . . . . . . . . .38
Can Facebook Change Your Business? . . . . . . . . . . . . . . . . . . . . .38
How Can Facebook Fit In to Businesses in
Different Ways? . . . . . . . . . . . . . . . . . . . . . . . . . . . . . . . . . . . . . . . . . . .39
How Do You Synch Up Your Other Marketing Efforts
with Your Facebook Campaigns? . . . . . . . . . . . . . . . . . . . . . . . . . . .39
Facebook + Print, Web, and Email . . . . . . . . . . . . . . . . . . . . . . . . .40
Facebook + Google Marketing . . . . . . . . . . . . . . . . . . . . . . . . . . . . . .40
Facebook + PR . . . . . . . . . . . . . . . . . . . . . . . . . . . . . . . . . . . . . . . . . . . . . . .41
Facebook + Email Marketing . . . . . . . . . . . . . . . . . . . . . . . . . . . . . . .41
Facebook + TV . . . . . . . . . . . . . . . . . . . . . . . . . . . . . . . . . . . . . . . . . . . . . . .42
Facebook + Radio . . . . . . . . . . . . . . . . . . . . . . . . . . . . . . . . . . . . . . . . . . . .43
4 FaceBucks: Five Ways Businesses Achieve Profits
with Facebook . . . . . . . . . . . . . . . . . . . . . . . . . . . . . . . . . . . . . . . . . . . . . . . . . . . . . . . . 45
How Facebook Advertising Helps All Five Revenue Models . . .46
Reaching Potential Buyers . . . . . . . . . . . . . . . . . . . . . . . . . . . . . . . . . . .46
Positive Alignment . . . . . . . . . . . . . . . . . . . . . . . . . . . . . . . . . . . . . . . . . . .47
Cheap Clicks, Cheap Fans, and Profits . . . . . . . . . . . . . . . . . . . . .47
Should You Try Facebook Marketing Without Fans First? . . .48
Five Facebook Revenue Strategies . . . . . . . . . . . . . . . . . . . . . . . . . . . . . .49
Strategy #1: Advertising Direct to e-Commerce . . . . . . . . . . .49
Strategy #2: Advertising and Email Marketing . . . . . . . . . . . .50
Strategy #3: Fan Marketing for e-Commerce . . . . . . . . . . . . . .53
Strategy #4: Fans for Blogging and Advertising Revenue .55
Strategy #5: Fans and Affiliate Marketing . . . . . . . . . . . . . . . . . .57
5 How Not to Fall on Your Face: Six Mistakes That Block
Facebook Profitability. . . . . . . . . . . . . . . . . . . . . . . . . . . . . . . . . . . . . . . . . . . . . . . 61
1. Viability and Profitability . . . . . . . . . . . . . . . . . . . . . . . . . . . . . . . . . . . . .62
The New Online Business . . . . . . . . . . . . . . . . . . . . . . . . . . . . . . . . . . .62
The Successful Online Business Now Testing
Facebook Marketing . . . . . . . . . . . . . . . . . . . . . . . . . . . . . . . . . . . . . .66
Figuring Out Facebook Marketing Profitability . . . . . . . . . . .67
2. Head in the Sand: No Analytics . . . . . . . . . . . . . . . . . . . . . . . . . . . . . .67
3. Too Many Hoops: The Arduous Conversion Funnel . . . . . . .68
The 1% Rule: Only 1% Of People Will Do What
You Ask Them to Do Online . . . . . . . . . . . . . . . . . . . . . . . . . . . .68
The Effect of the 1% Rule on Internet Sales Processes . . . .69
4. Why Should I Care? Unmotivated Customers . . . . . . . . . . . . . .70
Why Should They Care? . . . . . . . . . . . . . . . . . . . . . . . . . . . . . . . . . . . .70
WIIFM? . . . . . . . . . . . . . . . . . . . . . . . . . . . . . . . . . . . . . . . . . . . . . . . . . . . . . . .70
Incentives . . . . . . . . . . . . . . . . . . . . . . . . . . . . . . . . . . . . . . . . . . . . . . . . . . . . .70
Facebook-Specific Landing Pages on Your Website . . . . . . .71
5. You've Got the Wrong Guy: Unqualified Fan Base . . . . . . . . .72
6. Let's Get It On: No Warm-up . . . . . . . . . . . . . . . . . . . . . . . . . . . . . . . .73
Start with Generosity . . . . . . . . . . . . . . . . . . . . . . . . . . . . . . . . . . . . . . . .73
Warming It Up on the Web . . . . . . . . . . . . . . . . . . . . . . . . . . . . . . . . .73
Warming It Up on Facebook . . . . . . . . . . . . . . . . . . . . . . . . . . . . . . . .74
6 Facing the Facts: How to Continuously Get Better
Results with the Five Steps of Optimization . . . . . . . . . . . . . . . . . . . 75
The Five Steps of Optimization . . . . . . . . . . . . . . . . . . . . . . . . . . . . . . . . .76
Step One: Establish One Clear Goal . . . . . . . . . . . . . . . . . . . . . . . . . . . .79
Facebook Marketing Goals . . . . . . . . . . . . . . . . . . . . . . . . . . . . . . . . . .80
Prioritizing Goals and Reconciling Conflicts . . . . . . . . . . . . . .81
Step Two: Quantify the Goal with a Key Metric . . . . . . . . . . . . . . .82
Balancing Metrics . . . . . . . . . . . . . . . . . . . . . . . . . . . . . . . . . . . . . . . . . . . .83
Estimating the Likelihood of Success . . . . . . . . . . . . . . . . . . . . . . .83
Tracking . . . . . . . . . . . . . . . . . . . . . . . . . . . . . . . . . . . . . . . . . . . . . . . . . . . . . .84
Facebook Marketing Metrics . . . . . . . . . . . . . . . . . . . . . . . . . . . . . . . .84
Step Three: Look at Where You're Starting . . . . . . . . . . . . . . . . . . . .85
Resources . . . . . . . . . . . . . . . . . . . . . . . . . . . . . . . . . . . . . . . . . . . . . . . . . . . . .86
Obstacles . . . . . . . . . . . . . . . . . . . . . . . . . . . . . . . . . . . . . . . . . . . . . . . . . . . . . .86
Capabilities . . . . . . . . . . . . . . . . . . . . . . . . . . . . . . . . . . . . . . . . . . . . . . . . . . .87
Step Four: Choose Tactics to Test . . . . . . . . . . . . . . . . . . . . . . . . . . . . . .88
Ad Copy Tests . . . . . . . . . . . . . . . . . . . . . . . . . . . . . . . . . . . . . . . . . . . . . . . .88
Ad Image Tests . . . . . . . . . . . . . . . . . . . . . . . . . . . . . . . . . . . . . . . . . . . . . . .88
Facebook Post Tests . . . . . . . . . . . . . . . . . . . . . . . . . . . . . . . . . . . . . . . . . .89
Testing Post Types . . . . . . . . . . . . . . . . . . . . . . . . . . . . . . . . . . . . . . . . . . .90
Landing Pages . . . . . . . . . . . . . . . . . . . . . . . . . . . . . . . . . . . . . . . . . . . . . . . .90
Step Five: Optimize Based on Results . . . . . . . . . . . . . . . . . . . . . . . . . .90
7 Selling the Dream: Going Beyond Benefits to Arouse
Your Fans' Desire for What You Offer. . . . . . . . . . . . . . . . . . . . . . . . . . . . 93
Facebook Is Not About You: Curing the
"Me Me Me" Epidemic . . . . . . . . . . . . . . . . . . . . . . . . . . . . . . . . . . . . . . .94
Your Favorite Words Versus the Customers' . . . . . . . . . . . . . . .94
Disinclination to Better Understand the
Potential Customer . . . . . . . . . . . . . . . . . . . . . . . . . . . . . . . . . . . . . . .95
Can You Really Say, "I Am the Best Example of
Our Target Customer"? . . . . . . . . . . . . . . . . . . . . . . . . . . . . . . . . . .97
Obsession with the Artistic Parts of the Marketing
Process, to the Detriment of Other Aspects . . . . . . . . . . . .97
Lack of Interest in Measuring Results and Changing
Strategies and Tactics to Get Better Results . . . . . . . . . . . . .98
Facebook Is the Consumer's Playground:
So Play by the Rules . . . . . . . . . . . . . . . . . . . . . . . . . . . . . . . . . . . . . . . . .98
Do Pushy Sales Messages Turn People Off? . . . . . . . . . . . . . . . . . . . .99
Facebook Is Like a Conference: How Do You
Sell at a Conference? . . . . . . . . . . . . . . . . . . . . . . . . . . . . . . . . . . . . .99
Sales Is a Journey of Four Steps . . . . . . . . . . . . . . . . . . . . . . . . . . . . . . .100
What Is AIDA? . . . . . . . . . . . . . . . . . . . . . . . . . . . . . . . . . . . . . . . . . . . . .100
"Hot Donuts Now" . . . . . . . . . . . . . . . . . . . . . . . . . . . . . . . . . . . . . . . . .100
"I'm on a Horse" . . . . . . . . . . . . . . . . . . . . . . . . . . . . . . . . . . . . . . . . . . . .101
Social Media Selling Is So Romantic . . . . . . . . . . . . . . . . . . . . . .101
How AIDA Works on Facebook . . . . . . . . . . . . . . . . . . . . . . . . . . .102
How to "Sell the Dream" . . . . . . . . . . . . . . . . . . . . . . . . . . . . . . . . . . . . . . .103
The Desire Phase Is Critical in Fan Marketing . . . . . . . . . . .103
The Features Versus the Benefits . . . . . . . . . . . . . . . . . . . . . . . . . .103
The Benefits Versus the Customer's Dream . . . . . . . . . . . . . .104
Examples of Selling the Dream . . . . . . . . . . . . . . . . . . . . . . . . . . . .105
12 Things People Dream About . . . . . . . . . . . . . . . . . . . . . . . . . . .107
How to Figure Out Your Customer's Dream . . . . . . . . . . . . . .107
How to Get Fans Thinking and Talking
About the Dream . . . . . . . . . . . . . . . . . . . . . . . . . . . . . . . . . . . . . . . .108
8 Putting Your Best Face Forward: Setting Up Your
Facebook Page to Get More Fans and Sales. . . . . . . . . . . . . . . . . 109
Pages, Groups, and Profiles: The Mad, Mad World
of Facebook . . . . . . . . . . . . . . . . . . . . . . . . . . . . . . . . . . . . . . . . . . . . . . . . .110
Other Facebook Opportunities . . . . . . . . . . . . . . . . . . . . . . . . . . . .113
Can You Market with a Personal Profile? . . . . . . . . . . . . . . . . .114
What's Better, Pages or Groups? . . . . . . . . . . . . . . . . . . . . . . . . . .114
Understanding Admins for Pages and Groups . . . . . . . . . . .116
How Do Pages and Groups Work Together? . . . . . . . . . . . . .116
Why Are Facebook Groups So Powerful? . . . . . . . . . . . . . . . . .117
Critical Mistakes to Avoid in Page Setup . . . . . . . . . . . . . . . . .118
What to Put in Your Page's Main Picture . . . . . . . . . . . . . . . . .119
How to Get a Vanity URL . . . . . . . . . . . . . . . . . . . . . . . . . . . . . . . . . .119
Are Custom Tabs Overhyped? . . . . . . . . . . . . . . . . . . . . . . . . . . . . . . . . .120
Most People Never See Your Welcome Tab . . . . . . . . . . . . . . .120
Why Most People Will Never See Your Tabs . . . . . . . . . . . . .121
Easiest Ways to Create Welcome Tabs . . . . . . . . . . . . . . . . . . . .121
Other Great Uses of Custom Tabs . . . . . . . . . . . . . . . . . . . . . . . . .123
9 The Face of Advertising: How to Capitalize on the
Most Powerful Marketing Tool . . . . . . . . . . . . . . . . . . . . . . . . . . . . . . . . . . 125
Why Facebook Advertising Is Critically Important . . . . . . . . . .126
Comparing Google Search Marketing with
Facebook Marketing . . . . . . . . . . . . . . . . . . . . . . . . . . . . . . . . . . . .127
How Ready Are They to Buy Now? . . . . . . . . . . . . . . . . . . . . . . .127
Cost of Permission Marketing . . . . . . . . . . . . . . . . . . . . . . . . . . . . .127
Facebook Ads for Different-Sized Businesses . . . . . . . . . . . .128
Mistakes and Misconceptions . . . . . . . . . . . . . . . . . . . . . . . . . . . . .129
How to Do Facebook Advertising . . . . . . . . . . . . . . . . . . . . . . . . . . . . .130
1. Analyze Your Business and Customers . . . . . . . . . . . . . . . . .131
2. Target Your Audiences . . . . . . . . . . . . . . . . . . . . . . . . . . . . . . . . . . .132
3. Create Your Advertisements . . . . . . . . . . . . . . . . . . . . . . . . . . . .136
4. Optimizing Your Campaigns and Ads . . . . . . . . . . . . . . . . . .144
Advertising to Existing Fans . . . . . . . . . . . . . . . . . . . . . . . . . . . . . . . . . . .151
How to Be a (Boring) Rock Star for Just $30 per Month . . . .152
10 FaceHook: Capturing Qualified Prospects as Fans and
Group Members. . . . . . . . . . . . . . . . . . . . . . . . . . . . . . . . . . . . . . . . . . . . . . . . . . . . . 155
Why Fan Marketing Can Be So Profitable . . . . . . . . . . . . . . . . . . . .156
Paid Media Versus Owned Media on Google . . . . . . . . . . . .156
Paid Media Versus Owned Media on Facebook . . . . . . . . . .156
Unwise Ways to Get Fans . . . . . . . . . . . . . . . . . . . . . . . . . . . . . . . . . . . . . .158
The Contest and Giveaway Trap . . . . . . . . . . . . . . . . . . . . . . . . . . .158
Buying Fans from Companies That Get Fans for You . . .159
Marketing 101: Targeting and Return on Investment . . . . . . . .159
Wrong Fans? Bad Return on Investment . . . . . . . . . . . . . . . . . . . . .160
A Few Fan Growth Campaign Case Studies . . . . . . . . . . . . . . . . . .161
How to Get Cheap, Targeted Fans . . . . . . . . . . . . . . . . . . . . . . . . . . . . .163
The Best Ad Settings for Cheap Fan Acquisition . . . . . . . . .163
Target-Ad Consistency: Tightly Grouping Targets
with Image and Message . . . . . . . . . . . . . . . . . . . . . . . . . . . . . . . .164
An Alternative Targeting Approach . . . . . . . . . . . . . . . . . . . . . . .165
No-Brainer Marketing: Simplicity Gets Results . . . . . . . . . .165
Ad Copy Formulas . . . . . . . . . . . . . . . . . . . . . . . . . . . . . . . . . . . . . . . . .165
Ad Copy Grammar, Punctuation, and Capitalization . . . .166
Ad Headline Issues . . . . . . . . . . . . . . . . . . . . . . . . . . . . . . . . . . . . . . . . .166
How to Choose Images for Fan Acquisition Ads . . . . . . . . .167
The Key Metric for Fan Generation and How to Find It 167
Notes on Business-to-Business Fan Acquisition . . . . . . . . . . . . .171
Business-to-Business Fan Generation Advertising Tips .171
11 Talking Till You're Blue in the Face: How to Get More
Likes and Comments. . . . . . . . . . . . . . . . . . . . . . . . . . . . . . . . . . . . . . . . . . . . . . . 173
How People Use Facebook . . . . . . . . . . . . . . . . . . . . . . . . . . . . . . . . .174
Your Fans See the People and Pages They Interact With . .174
The Average Page's Posts Are Seen by Less Than
10% of Its Fans . . . . . . . . . . . . . . . . . . . . . . . . . . . . . . . . . . . . . . . . . .175
The Mysterious EdgeRank Algorithm . . . . . . . . . . . . . . . . . . . .177
Post Metrics and Benchmarks . . . . . . . . . . . . . . . . . . . . . . . . . . . . .177
Dancing on the EdgeRank: Increasing Response
and Visibility . . . . . . . . . . . . . . . . . . . . . . . . . . . . . . . . . . . . . . . . . . . . . . . .179
What the Heck Is Web 2.0? . . . . . . . . . . . . . . . . . . . . . . . . . . . . . . . .179
Leading the Community You Create . . . . . . . . . . . . . . . . . . . . . .181
Formulas for Posts . . . . . . . . . . . . . . . . . . . . . . . . . . . . . . . . . . . . . . . . . .181
Incorporating Selling the Dream . . . . . . . . . . . . . . . . . . . . . . . . . .184
Learning from Your Previous Posts . . . . . . . . . . . . . . . . . . . . . . .185
Engagement Milestones . . . . . . . . . . . . . . . . . . . . . . . . . . . . . . . . . . . .186
Guiding Your Community . . . . . . . . . . . . . . . . . . . . . . . . . . . . . . . . .186
Balancing Engagement and Selling Types of Posts . . . . . . . . . . .188
Ratio and Frequency . . . . . . . . . . . . . . . . . . . . . . . . . . . . . . . . . . . . . . .188
Ideas for Posting . . . . . . . . . . . . . . . . . . . . . . . . . . . . . . . . . . . . . . . . . . . .189
Feedback Rate and Sales Posts . . . . . . . . . . . . . . . . . . . . . . . . . . . . .190
12 FaceMessage: Achieving Other Corporate Goals
on Facebook. . . . . . . . . . . . . . . . . . . . . . . . . . . . . . . . . . . . . . . . . . . . . . . . . . . . . . . . . 191
Non–Revenue-Oriented Facebook Goals . . . . . . . . . . . . . . . . . . . . .192
Branding and Positioning . . . . . . . . . . . . . . . . . . . . . . . . . . . . . . . . . .192
Customer Service . . . . . . . . . . . . . . . . . . . . . . . . . . . . . . . . . . . . . . . . . . .194
Public Relations . . . . . . . . . . . . . . . . . . . . . . . . . . . . . . . . . . . . . . . . . . . . .196
Journalistic Best Practices for Interaction . . . . . . . . . . . . . . . .200
13 Face-alytics: Analyzing Your Facebook Results. . . . . . . . . . . . . 203
Which Web Analytics Package Should You Use? . . . . . . . . . . . . .204
Google Analytics Overview . . . . . . . . . . . . . . . . . . . . . . . . . . . . . . . . . . . .205
Taking Analytics with a Grain of Salt . . . . . . . . . . . . . . . . . . . . . . . . .207
The Untrackables . . . . . . . . . . . . . . . . . . . . . . . . . . . . . . . . . . . . . . . . . . .208
Uneven Accountability . . . . . . . . . . . . . . . . . . . . . . . . . . . . . . . . . . . . .210
Last-Click Bias . . . . . . . . . . . . . . . . . . . . . . . . . . . . . . . . . . . . . . . . . . . . . .211
Inconsistencies and Inaccuracies . . . . . . . . . . . . . . . . . . . . . . . . . .211
Tracking Facebook Visitors with Google Analytics . . . . . . . . . .212
Tracking Visitors from Facebook Posts . . . . . . . . . . . . . . . . . . .213
Tracking Visitors from Facebook Ads . . . . . . . . . . . . . . . . . . . . .214
How to Get Advanced Facebook Page Insights . . . . . . . . . . . . . .216
1. How Often Should You Post on Your
Facebook Page? . . . . . . . . . . . . . . . . . . . . . . . . . . . . . . . . . . . . . . . . . .217
2. What If the Demographics of Your Most Engaged
Fans Is Different from Your Average Fan? . . . . . . . . . . . . .217
3. What Types of Posts and Post Content Get You
the Best Feedback Rates? Which Get the Worst? . . . . .218
4. What's the Best Time to Post to Your Fans? . . . . . . . . . . . .218
5. Which Sources Get You Fans Who Will Ultimately
Unlike Your Page? . . . . . . . . . . . . . . . . . . . . . . . . . . . . . . . . . . . . . . .218
How to Use These Tips to Get Better Results
from Your Posts . . . . . . . . . . . . . . . . . . . . . . . . . . . . . . . . . . . . . . . . .219
14 FaceFluence: Turning FaceBrowsers into
FaceBuyers—13 Sales and Influence Tactics. . . . . . . . . . . . . . . 221
When Influence Comes into Play . . . . . . . . . . . . . . . . . . . . . . . . . . . . .221
Sales and Influence Tactics for Increased Facebook Profits . . . .222
Applying Influence Principles to Facebook Marketing . . . . . .223
Reciprocity . . . . . . . . . . . . . . . . . . . . . . . . . . . . . . . . . . . . . . . . . . . . . . . . . .223
Commitment and Consistency . . . . . . . . . . . . . . . . . . . . . . . . . . . .230
Social Proof . . . . . . . . . . . . . . . . . . . . . . . . . . . . . . . . . . . . . . . . . . . . . . . . .232
Liking . . . . . . . . . . . . . . . . . . . . . . . . . . . . . . . . . . . . . . . . . . . . . . . . . . . . . . . .233
Authority . . . . . . . . . . . . . . . . . . . . . . . . . . . . . . . . . . . . . . . . . . . . . . . . . . . .234
Scarcity . . . . . . . . . . . . . . . . . . . . . . . . . . . . . . . . . . . . . . . . . . . . . . . . . . . . . .235
Applying Time-Tested Sales Tactics to Facebook
Marketing . . . . . . . . . . . . . . . . . . . . . . . . . . . . . . . . . . . . . . . . . . . . . . . . . . .237
Discounts . . . . . . . . . . . . . . . . . . . . . . . . . . . . . . . . . . . . . . . . . . . . . . . . . . . .237
Bonuses . . . . . . . . . . . . . . . . . . . . . . . . . . . . . . . . . . . . . . . . . . . . . . . . . . . . . .238
Upsells . . . . . . . . . . . . . . . . . . . . . . . . . . . . . . . . . . . . . . . . . . . . . . . . . . . . . . .238
Selling the Value . . . . . . . . . . . . . . . . . . . . . . . . . . . . . . . . . . . . . . . . . . . .238
Testimonials . . . . . . . . . . . . . . . . . . . . . . . . . . . . . . . . . . . . . . . . . . . . . . . . .239
Truth and Consequences . . . . . . . . . . . . . . . . . . . . . . . . . . . . . . . . . . .240
15 FaceBusiness: Seven Principles for Success. . . . . . . . . . . . . . . . 243
Harness the Power of Positive Marketing . . . . . . . . . . . . . . . . . . . . .245
Embrace the Entire Sales Funnel . . . . . . . . . . . . . . . . . . . . . . . . . . . . . .246
Leverage the Facebook Advertising Platform Now . . . . . . . . . .246
Know Your Customers Much More Deeply . . . . . . . . . . . . . . . . . .247
Test, Track, and Optimize Your Marketing . . . . . . . . . . . . . . . . . . .248
Start Fascinating Conversations . . . . . . . . . . . . . . . . . . . . . . . . . . . . . . .248