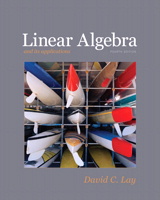 Description
Linear algebra is relatively easy for students during the early stages of the course, when the material is presented in a familiar, concrete setting. But when abstract concepts are introduced, students often hit a brick wall. Instructors seem to agree that certain concepts (such as linear independence, spanning, subspace, vector space, and linear transformations), are not easily understood, and require time to assimilate. Since they are fundamental to the study of linear algebra, students' understanding of these concepts is vital to their mastery of the subject. David Lay introduces these concepts early in a familiar, concrete Rn setting, develops them gradually, and returns to them again and again throughout the text so that when discussed in the abstract, these concepts are more accessible.
Note: This is the standalone book, if you want the book/access card order the ISBN below.
0321399145 / 9780321399144 Linear Algebra plus MyMathLab Getting Started Kit for Linear Algebra and Its Applications
Package consists of:
0321385179 / 9780321385178 Linear Algebra and Its Applications
0321431308 / 9780321431301 MyMathLab/MyStatLab -- Glue-in Access Card
0321654064 / 9780321654069 MyMathLab Inside Star Sticker
Table of Contents
1. Linear Equations in Linear Algebra
Introductory Example: Linear Models in Economics and Engineering
1.1 Systems of Linear Equations
1.2 Row Reduction and Echelon Forms
1.3 Vector Equations
1.4 The Matrix Equation Ax = b
1.5 Solution Sets of Linear Systems
1.6 Applications of Linear Systems
1.7 Linear Independence
1.8 Introduction to Linear Transformations
1.9 The Matrix of a Linear Transformation
1.10 Linear Models in Business, Science, and Engineering
Supplementary Exercises
2. Matrix Algebra
Introductory Example: Computer Models in Aircraft Design
2.1 Matrix Operations
2.2 The Inverse of a Matrix
2.3 Characterizations of Invertible Matrices
2.4 Partitioned Matrices
2.5 Matrix Factorizations
2.6 The Leontief Input—Output Model
2.7 Applications to Computer Graphics
2.8 Subspaces of Rn
2.9 Dimension and Rank
Supplementary Exercises
3. Determinants
Introductory Example: Random Paths and Distortion
3.1 Introduction to Determinants
3.2 Properties of Determinants
3.3 Cramer's Rule, Volume, and Linear Transformations
Supplementary Exercises
4. Vector Spaces
Introductory Example: Space Flight and Control Systems
4.1 Vector Spaces and Subspaces
4.2 Null Spaces, Column Spaces, and Linear Transformations
4.3 Linearly Independent Sets; Bases
4.4 Coordinate Systems
4.5 The Dimension of a Vector Space
4.6 Rank
4.7 Change of Basis
4.8 Applications to Difference Equations
4.9 Applications to Markov Chains
Supplementary Exercises
5. Eigenvalues and Eigenvectors
Introductory Example: Dynamical Systems and Spotted Owls
5.1 Eigenvectors and Eigenvalues
5.2 The Characteristic Equation
5.3 Diagonalization
5.4 Eigenvectors and Linear Transformations
5.5 Complex Eigenvalues
5.6 Discrete Dynamical Systems
5.7 Applications to Differential Equations
5.8 Iterative Estimates for Eigenvalues
Supplementary Exercises
6. Orthogonality and Least Squares
Introductory Example: Readjusting the North American Datum
6.1 Inner Product, Length, and Orthogonality
6.2 Orthogonal Sets
6.3 Orthogonal Projections
6.4 The Gram—Schmidt Process
6.5 Least-Squares Problems
6.6 Applications to Linear Models
6.7 Inner Product Spaces
6.8 Applications of Inner Product Spaces
Supplementary Exercises
7. Symmetric Matrices and Quadratic Forms
Introductory Example: Multichannel Image Processing
7.1 Diagonalization of Symmetric Matrices
7.2 Quadratic Forms
7.3 Constrained Optimization
7.4 The Singular Value Decomposition
7.5 Applications to Image Processing and Statistics
Supplementary Exercises
8. The Geometry of Vector Spaces
Introductory Example: The Platonic Solids
8.1 Affine Combinations
8.2 Affine Independence
8.3 Convex Combinations
8.4 Hyperplanes
8.5 Polytopes
8.6 Curves and Surfaces
9. Optimization (Online Only)
Introductory Example: The Berlin Airlift
9.1 Matrix Games
9.2 Linear Programming–Geometric Method
9.3 Linear Programming–Simplex Method
9.4 Duality
10. Finite-State Markov Chains (Online Only)
Introductory Example: Google and Markov Chains
10.1 Introduction and Examples
10.2 The Steady-State Vector and Google's PageRank
10.3 Finite-State Markov Chains
10.4 Classification of States and Periodicity
10.5 The Fundamental Matrix
10.6 Markov Chains and Baseball Statistics
Appendices
A. Uniqueness of the Reduced Echelon Form
B. Complex Numbers
Enhance your learning experience with text-specific study materials.
These online resources are available at no cost.
Companion Website for Linear Algebra and Its Applications, 4th Edition
Additional Course Materials
This title is also sold in the various packages listed below. Before purchasing one of these packages, speak with your professor about which one will help you be successful in your course.
Package ISBN-13: 9780321919731
Includes this title packaged with:
MathXL Valuepack Access Card (6-months)
. . Pearson Education
$227.60 | Add to Cart
Package ISBN-13: 9780321953827
Includes this title packaged with:
Maple Student Access Code Package
. Waterloo Maple, Inc.
MyMathLab -- Valuepack Access Card, 6th Edition
. . Pearson Education
$240.93 | Add to Cart
Package ISBN-13: 9780134065021
Includes this title packaged with:
MyMathLab Inside Star Sticker
. . Pearson Education
MyMathLab -- Glue-in Access Card, 2nd Edition
. . Pearson Education
Student Study Guide for Linear Algebra and Its Applications, 4th Edition
David C. Lay
$230.93 | Add to Cart
Purchase Info
ISBN-10: 0-321-38517-9
ISBN-13: 978-0-321-38517-8
Format: Alternate Binding
Digital Choices ?
MyLab & Mastering with Pearson eText is a complete digital substitute for a print value pack at a lower price.
MyLab & Mastering ?
MyLab & Mastering products deliver customizable content and highly personalized study paths, responsive learning tools, and real-time evaluation and diagnostics. MyLab & Mastering products help move students toward the moment that matters most—the moment of true understanding and learning.
eTextbook ?
With VitalSource eTextbooks, you save up to 60% off the price of new print textbooks, and can switch between studying online or offline to suit your needs.
Access your course materials on iPad, Android and Kindle devices with VitalSource Bookshelf, the textbook e-reader that helps you read, study and learn brilliantly. Features include:
See all of your eTextbooks at a glance and access them instantly anywhere, anytime from your Bookshelf - no backpack required.
Multiple ways to move between pages and sections including linked Table of Contents and Search make navigating eTextbooks a snap.
Highlight text with one click in your choice of colors. Add notes to highlighted passages. Even subscribe to your classmates' and instructors' highlights and notes to view in your book.
Scale images and text to any size with multi-level zoom without losing page clarity. Customize your page display and reading experience to create a personal learning experience that best suits you.
Print only the pages you need within limits set by publisher
Supports course materials that include rich media and interactivity like videos and quizzes
Easily copy/paste text passages for homework and papers
Supports assistive technologies for accessibility by vision and hearing impaired users
Print Choices
Alternative Options ?
Click on the titles below to learn more about these options.
Loose Leaf Version ?
Books a la Carte are less-expensive, loose-leaf versions of the same textbook.