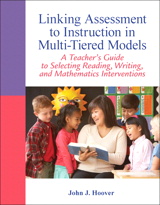 Description
For courses in General Methods and Response to Intervention.
This book shows classroom teachers how to direct multi-tiered instruction by linking screening, monitoring and diagnostic achievement scores with evidence-based interventions in reading, writing, and mathematics.
Organized in two parts, it explores the multi-tiered instructional model found within the RTI framework and how to best implement it in the classroom setting. Beyond a theoretical perspective, it shows teachers which evidence-based interventions should be attempted based on specific achievement data and related progress scores. It includes reading, writing, and mathematics interventions that can be used for core Tier 1 instruction, supplemental Tier 2 supports and intensive Tier 3 interventions. Throughout the book, its emphasis is on using assessment data to make important instructional decisions that meet learner needs.
Table of Contents
PART I – Framework, Process and Collaboration in Multi-tiered Instructional Models
Chapter 1: Structure of Multi-Tiered Instructional Models
Chapter Overview/Key Terms
Overview of Multi-Tiered Instructional Models
Conclusion
Chapter 2: Process of Multi-Tiered Instructional Models
Chapter Overview/Key Terms
Introduction
Multi-Tiered Instructional Delivery Process
Multi-Tiered Assessment Process
Interpreting Achievement Data Scores
Framework for Making Instructional Adjustments
Universal Screening and Progress Monitoring Example: AIMSweb
Conclusion
Chapter 3: Collaboration to Implement Instructional Adjustments
Chapter Overview/Key Terms
Introduction
Collaboration Model
Facilitating Change
Conclusion
Part II: Reading, Writing, and Mathematics Interventions
Chapter 4: Evidence-Based Reading Practices
Chapter Overview/Key Terms
Introduction
Foundations of Reading Instruction
Reading Interventions
Research-Based Comprehensive Reading Programs
Teacher and Student Strategies for Differentiated Reading Instruction
Conclusion
Chapter 5: Evidence-Based Writing Practices
Chapter Overview/Key Terms
Introduction
Writing as a Process
Foundational Elements of Effective Writing
Writing Interventions
Comprehensive Writing Programs
Strategies for Differentiated Writing Instruction
Conclusion
Chapter 6: Evidence-Based Mathematics Practices
Chapter Overview/Key Terms
Foundation of Mathematics Instruction
Mathematics and Use of Mental Processes
Evidence-Based Mathematics Instruction
Comprehensive Mathematics Instructional Support Programs
Strategies for Differentiated Mathematics Instruction
Conclusion
Concluding Remarks: Meeting the Classroom Challenges of Multi-Tiered Instruction
References