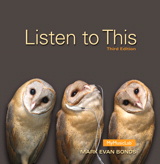 Description
Listen to the music. Hear the elements. Expand your playlist.
Created for today's students, Listen To This, 3/e provides readers with the tools to listen to music, hear the elements, and ultimately expand their musical horizons. Readers are encouraged to explore history, culture, and musical styles through active listening, not just through passive reading. By concentrating on the elements of music, students develop the ability to connect earlier music with their own music. Praised for its engaging writing style, flexible format, listening-oriented approach and focus on musical elements, Listen To This will instill a life-long appreciation and understanding of music in students' by expanding their playlist today!
This new edition retains the admired focus on the basic elements of music with the addition of new features to offer an enhanced online learning experience with MyMusicLab. Key learning tools within MyMusicLab include significantly expanded Needle Drop exercises, new Listening Guide assessments, the all new Writing Space learning tool, and more!

Teaching and Learning Experience
This program will provide a better teaching and learning experience—for you and your students. It:
Personalizes Learning with MyMusicLab: MyMusicLab is an online homework, tutorial, and assessment program, complete with Writing Space, a tool to enhance student essay writing. MyMusicLab helps students prepare for class and instructors gauge individual and class performance.

Encourages Active Listening: Redesigned online Listening Guides, developed for tablet as well as PC compatibility, encourage student engagement and understanding through the use of visuals (including animated visual scores by Stephen Malinowski), tailor-made assessments, and personalized learning tools.

Includes Tools to Improve Critical Thinking: Key Learning Outcomes encourage students to think critically about visual arts as part of the larger world.

Engages Students: Updated scholarship, MyMusicLab, and the readability of the text provide a wonderful engaging student experience.

Provides Outstanding Instructor Support: With a wealth of online resources, including an expanded teacher's manual, instructors have videos, images, and teaching support materials to create a dynamic, engaging course.

Offers a Fully Integrated Digital Experience: Complete with eText, streaming audio, listening guides, and MyLab assets, all at an affordable price.
This Package Includes:
0205978614 / 9780205978618 Listen to This
0205986838 / 9780205986835 NEW MyMusicLab with Pearson eText -- Valuepack Access Card - for Listen to This
---
ALERT: Before you purchase, check with your instructor or review your course syllabus to ensure that you select the correct ISBN. Several versions of Pearson's MyLab & Mastering products exist for each title, including customized versions for individual schools, and registrations are not transferable. In addition, you may need a CourseID, provided by your instructor, to register for and use Pearson's MyLab & Mastering products.
Packages
Access codes for Pearson's MyLab & Mastering products may not be included when purchasing or renting from companies other than Pearson; check with the seller before completing your purchase.
Used or rental books
If you rent or purchase a used book with an access code, the access code may have been redeemed previously and you may have to purchase a new access code.
Access codes
Access codes that are purchased from sellers other than Pearson carry a higher risk of being either the wrong ISBN or a previously redeemed code. Check with the seller prior to purchase.
Table of Contents
The Elements of Music: A Brief Introduction
PART ONE: THE MIDDLE AGES
Chapter 1. Hildegard von Bingen: Play of Virtues (excerpt)
Chapter 2. San Ildefonso Indians of New Mexico: Eagle Dance
Chapter 3. Francesco Landini: Behold, Spring
Chapter 4: Guillaume de Machaut: I Can All Too Well Compare My Lady
Chapter 5. Alfonso el Sabio: Songs to the Virgin Mary no. 249, He Who Gladly Serves
PART TWO: THE RENAISSANCE
Chapter 6. Josquin des Prez: The Cricket
Chapter 7. Thomas Weelkes: Since Robin Hood
Chapter 8. William Byrd: Sing Joyfully
Chapter 9. Rhyming Singers of the Bahamas: My Lord Help Me To Pray
(Global Connection: Polyphony)
PART THREE: THE BAROQUE ERA
Chapter 10. Claudio Monteverdi: Orpheus, selection from Act II
Chapter 11. Henry Purcell: Dido and Aeneas: Overture and Act I, nos. 1-4
Chapter 12. Mbuti Pygmies: "Marriage Celebration Song"
Chapter 13. Barbara Strozzi: "Revenge"
Chapter 14. Antonio Vivaldi: Four Seasons, "Winter," first movement.
Chapter 15. Johann Sebastian Bach: Fugue in G minor, BWV 578 ("Little")
Chapter 16. Johann Sebastian Bach: Brandenburg Concerto no. 2 in F Major, BWV 1047, finale
Chapter 17. Johann Sebastian Bach: Cantata 140 ("Awake, a Voice Calls to Us"), selections
Chapter 18. George Frideric Handel: Messiah, selections
PART FOUR: THE CLASSICAL ERA
Chapter 19. Joseph Haydn: String Quartet op. 76, no. 3, second movement
Chapter 20. Master Musicians of the Ikuta-ryu (Japan): Cherry Blossom
Chapter 21. Joseph Haydn: Symphony no. 102, Bm third and fourth movements
Chapter 22. Wolfgang Amadeus Mozart: Symphony no. 40 in G Minor, K. 550, first movement
Chapter 23. Wolfgang Amadeus Mozart: Piano Concerto in A Major, K. 488 first movement
Chapter 24. Wolfgang Amadeus Mozart: The Marriage of Figaro, Act I, "Cosa sento"
Chapter 25. William Billings: "Chester"
PART FIVE: THE NINETEENTH CENTURY
Chapter 26. Ludwig van Beethoven: Symphony no. 5 in C minor, op.7
Chapter 27. Franz Schubert: "Erlking,"D. 328
Chapter 28. Felix Mendelssohn: Overture to A Midsummer Night's Dream
Chapter 29. Hector Berlioz: Symphonie fantastique, fourth movement ("March to the Scaffold")
Chapter 30 Fanny Mendelssohn Hensel: Piano Trio, op. 11, third movement
Chapter 31. Clara Schumann: "Forward!"
Chapter 32. Frederic Chopin: Mazurka in Bb, op. 7, no. 1
Chapter 33. Louis Moreau Gottschalk: Union: Concert Paraphrase on National Airs
Chapter 34. Ravi Shankar (India): Raga Sindhi-Bhairavi
Chapter 35. Giuseppe Verdi: La Traviata, Act I, selection
Chapter 36. Richard Wagner: The Valkyrie, Act III, selection ("Wotan's farewell")
Chapter 37. Johannes Brahms: Symphony no. 4, in E minor, op.98, finale
Chapter 38. Antonin DvoYák: String Quartet in F Major, op. 96 ("American"), third movement
PART SIX: SINCE 1900
Chapter 39. Claude Debussy: Voiles
Chapter 40. Charles Ives: The Unanswered Question
Chapter 41. Arnold Schoenberg: "Columbine" from Pierrot lunaire
Chapter 42. Igor Stravinsky: Rite of Spring, Part One (excerpt)
Chapter 43. Scott Joplin: Maple Leaf Rag
Chapter 44. Robert Johnson: "Terraplane Blues"
Chapter 45. Duke Ellington: Cotton Tail
Chapter 46. Charlie Parker: Ornithology
Chapter 47. Ruth Crawford: Piano Study in Mixed Accents
Chapter 48. Germaine Tailleferre: Concertino for Harp and Orchestra, finale
Chapter 49. William Grant Still: "A Black Pierrot" from Songs of Separation
Chapter 50. Aaron Copland: "Hoe-Down" from Rodeo (3:05)
Chapter 51. Béla Bartók: Concerto for Orchestra, second movement ("Game of Paris")
Chapter 52. Leonard Bernstein: "Tonight" from West Side Story (ensemble)
Chapter 53. John Cage: Sonata II from Sonetas and Interludes
Chapter 54. Gamelan Gong Kebyar of Belaluan, Bali: Kebyar Ding III, "Oncang-oncangan"
Chapter 55. Philip Glass: "Knee Play 1" from Einstein on the Beach
Chapter 56. Chuck Berry: "School Day"
Chapter 57. Public Enemy: "Fight the Power"
Chapter 58. Tania Léon: A la Par, second movement("Guaguancó")
Chapter 59. John Williams: "The Walls Converge," from Star Wars
Chapter 60. Corey Dargel: "On This Date Every Year"
Chapter 61. Austin Wietory: "Nascence," From Journey
PART SEVEN: YOUR MUSIC