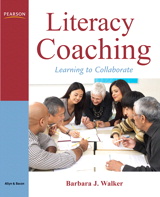 Description
Literacy coaches, learn to transform every interaction with teachers and students into an opportunity for learning!
Renowned author Barbara Walker takes a positive approach to literacy coaching and explores the possibilities for teacher development and student learning in her newest book, Literacy Coaching: Learning to Collaborate. Drawing from her experiences working with both pre-service and practicing teachers, Walker discusses the importance of learning to collaborate within the school and during classroom interactions in order to increase both teacher- and student-learning. She presents literacy coaches and teachers with a step-by-step process, the "cycle of literacy coaching" for adapting classrooom instruction and outlines best practice strategies for implementation, including the multiple decisions that teachers make before, during, and after a literacy lesson. The cycle is broken down into three steps for ease of use:
The pre-conference--teachers and coaches decide on the instructional procedures, which student to observe, the coaching procedures, what aspects of literacy to observe, and what student work to collect.

Implementation--the literacy coach observes the teacher and the students.

The post-conference--the literacy coach and the teacher reflect on the lesson and analyze what they observed. This analysis and the interpretation of the classroom interactions is integral.
Using a gradual release model, Walker explains the different levels of support that a literacy coach can use as they work with teachers. She discusses coaching through modeling, "coaching in the zone," and coaching for independence. Finally, the step-by-step techniques provided help teachers and coaches determine at what point during the lesson instruction was modified to promote student learning.
Table of Contents
Literacy Coaching and Classroom Interactions
Table of Contents
Chapter 1
Literacy Coaching in a Learning Community 1
Models and Characteristics 2
The Learning Community 6
Literacy Coaches in the Learning Community 8
Knowledge about literacy and literacy instruction
Knowledge and Use of Collaboration
Supporting Teachers Practice
Teachers in the Learning Community 12 Multiplicity of Experiences
Reflection
Practical Reasoning
Interrelationships of Classroom Interactions 17
Literacy Coaches and Teachers in the Classroom
Students in the Classroom
Summary 19
Chapter 2
Coaching and Collaboration 25
Attributes of Collaboration 26
Trust
Active Listening
Shared Goals
Collaboration Adds Value
Perspective Sharing
Situations for Collaboration 30
Collaboration in the learning community
Collaboration in classroom interactions
Collaboration in small groups
Reflective Discussion Groups
Study Groups
Teacher-Research Groups
Summary 35
Chapter 3
The Cycle of Literacy Coaching 45
Section 1 - Getting Started 46
Getting to Know Each Other
Initial Perceptions of Teachers
Setting the tone of collaboration
Coaching Conversations
Conversations about instructional practices
Conversations about student learning
Section 2 — The Literacy Coaching Cycle 49
Preconference 50
Selecting Target Students
Selecting instructional procedures
Selecting coaching procedures
Demonstrations
Collaborative teaching
Ongoing Support
Observation
Workshops
Selecting What to Observe
Student actions
Teacher Actions
Selecting Student Work
Instructional Event 56
Conversations with students
The literacy coaches' observation process
The teachers' observation process
Personal Refection
Post Conference 59
Reflecting on instructional adjustments
Describing reasoning in a one-on-one conversation
Section 3 — After the Coaching Process 60
Small group reflection
Reflecting on practical reasoning
Reflecting on formal theories
Continuing the reflective cycle
A New Cycle of Literacy Coaching
Summary 63
Chapter 4
Gradual Release Model for Literacy Coaching 75
Coaching through modeling 77
Coaching in the zone 79
Collaboratively Teaching
Supporting by asking questions
Supporting by prompting
Support for modifying instruction
Coaching for Independence 82
Selecting examples to support teachers' learning
Collaboratively Reflecting Teacher and Coach Reflecting Together 84
Practical Reasoning
Collaborative Reflective Groups
Summary 86
Chapter 5
Observations, Analysis, and Interpretation 94
Section 1 Observation 95
Conducting Observations
Narrative descriptions
Checklists
Observing Teachers
Observing Students
Observing Teacher-students interactions
Observing and Collecting Student Work
Section 2 Analysis 101
Analyzing Teacher's Actions 101
Using questions to analyze teacher actions
Analyzing teacher actions using rubrics
Analyzing Student Learning 104
Are students actively engaged?
Do students talk within the classroom context?
Are students constructing meaning connecting and their background knowledge?
Are students verifying and checking their understanding?
Are students elaborating what and how they read?
Analyzing student-teacher interactions 107
Analyzing Student Work 109
Searching for Patterns
Using a Rubric
Section 3 Interpretation 110
Interpretation of classroom interactions 111
Interpreting teachers' actions
Interpreting students' actions
Interpreting Conversations 112
Conversational Interviews with teachers
Conversational Interview with students
Student conversations about their work
Instructional Techniques Section 121
Directed Reading Thinking Activity 123
Graphic Organizers 126
Interactive Writing 129
Retelling 132
Semantic Mapping 135
Story Mapping 139
Summary Experience Approach 142
Think-aloud Approach 146
References 154
Purchase Info ?
With CourseSmart eTextbooks and eResources, you save up to 60% off the price of new print textbooks, and can switch between studying online or offline to suit your needs.
Once you have purchased your eTextbooks and added them to your CourseSmart bookshelf, you can access them anytime, anywhere.
Buy Access
Literacy Coaching: Learning to Collaborate, CourseSmart eTextbook
Format: Safari Book
$27.99 | ISBN-13: 978-0-13-702228-1