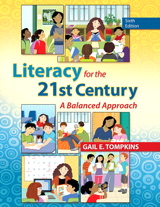 Description
NOTE: Used books, rentals, and purchases made outside of Pearson
If purchasing or renting from companies other than Pearson, the access codes for the Enhanced Pearson eText may not be included, may be incorrect, or may be previously redeemed. Check with the seller before completing your purchase.

This package includes the Enhanced Pearson eText and the bound book.
Literacy for the 21st Century: A Balanced Approach is a thoroughly applied text written to ensure that readers understand the current theories behind and the critical components of instruction for teaching reading and writing as complementary in the development of literacy. Readers are treated to a philosophical approach that not only balances the why, what, and how of teaching literacy but also offers practical pedagogy–teaching strategies and instructional procedures–that foster thoughtful teacher preparation and ensures alignment to the literacy goals teachers are responsible to teach. New text features model practices that support diverse populations, instruction driven by sound classroom assessment, and new literacy strategies that will help teachers transform literacy learning with digital devices. Integrating the best of what we know about teaching reading and writing, the Sixth Edition of this popular introductory text provides the balance teachers need to be successful in the classroom. The Enhanced Pearson eText features embedded video.
Improve mastery and retention with the Enhanced Pearson eText*
The Enhanced Pearson eText provides a rich, interactive learning environment designed to improve student mastery of content. The Enhanced Pearson eText is:
Engaging. The new interactive, multimedia learning features were developed by the authors and other subject-matter experts to deepen and enrich the learning experience.

Convenient. Enjoy instant online access from your computer or download the Pearson eText App to read on or offline on your iPad® and Android® tablet.*

Affordable. The Enhanced Pearson eText may be purchased stand-alone or with a loose-leaf version of the text for 40-65% less than a print bound book.
*The Enhanced eText features are only available in the Pearson eText format. They are not available in third-party eTexts or downloads.
*The Pearson eText App is available on Google Play and in the App Store. It requires Android OS 3.1-4, a 7" or 10" tablet, or iPad iOS 5.0 or later.
0133388263 / 9780133388268 Literacy for the 21st Century: A Balanced Approach Plus Video-Enhanced Pearson eText -- Access Card Package
Package consists of:
013283779X / 9780132837798 Literacy for the 21st Century: A Balanced Approach

0133396592 / 9780133396591 Literacy for the 21st Century: A Balanced Approach, Video-Enhanced Pearson eText -- Access Card
Table of Contents
Chapter 1: Becoming an Effective Teacher of Reading
PRINCIPLE 1: EFFECTIVE TEACHERS UNDERSTAND HOW STUDENTS LEARN
Behaviorism
Constructivism
Sociolinguistics
Information Processing
PRINCIPLE 2: EFFECTIVE TEACHERS SUPPORT STUDENTS' USE OF THE CUEING SYSTEMS
The Phonological System
The Syntactic System
The Semantic System
The Pragmatic System
PRINCIPLE 3: EFFECTIVE TEACHERS CREATE A COMMUNITY OF LEARNERS
Characteristics of a Classroom Community
How to Create a Classroom Culture
PRINCIPLE 4: EFFECTIVE TEACHERS ADOPT A BALANCED APPROACH TO INSTRUCTION
Common Core State Standards
PRINCIPLE 5: EFFECTIVE TEACHERS SCAFFOLD STUDENTS' READING AND WRITING
Modeled Reading and Writing
Shared Reading and Writing
Interactive Reading and Writing
Guided Reading and Writing
Independent Reading and Writing
PRINCIPLE 6: EFFECTIVE TEACHERS ORGANIZE FOR INSTRUCTION
Basal Reading Programs
Literature Focus Units
Literature Circles
Reading and Writing Workshop
Nurturing English Learners
PRINCIPLE 7: EFFECTIVE TEACHERS DIFFERENTIATE INSTRUCTION
PRINCIPLE 8: EFFECTIVE TEACHERS LINK INSTRUCTION AND ASSESSMENT
Classroom Assessment Tools
High-Stakes Tests
Accountability Check! Teaching Reading and Writing
References
Chapter 2: The Reading and Writing Processes
Vignette: The Reading Process in Action
THE READING PROCESS
Stage 1: Prereading
Stage 2: Reading
Stage 3: Responding
Stage 4: Exploring
Stage 5: Applying
THE WRITING PROCESS
Stage 1: Prewriting
Stage 2: Drafting
Stage 3: Revising
Stage 4: Editing
Stage 5: Publishing
The Writer's Craft
READING AND WRITING ARE RECIPROCAL PROCESSES
Comparing the Two Processes
Classroom Connections
Literacy Strategies
Accountability Check! Teaching the Reading and Writing Processes
References
Chapter 3: Assessing Literacy Development
Vignette: Second-Quarter Assessments
CLASSROOM ASSESSMENT
Step 1: Planning for Assessment
Step 2: Monitoring Students' Progress
Step 3: Evaluating Students' Learning
Step 4: Reflecting
DIAGNOSTIC TESTS
Determining Students' Reading Levels
Diagnosing Students' Strengths and Weaknesses
Nurturing English Learners
HIGH-STAKES TESTING
Problems With High-Stakes Testing
Preparing for Standardized Tests
Nurturing English Learners
The Politics of High-Stakes Testing
PORTFOLIO ASSESSMENT
Collecting Work in Portfolios
Involving Students in Self-Assessment
Showcasing Students' Portfolios
Accountability Check! Assessing Students' Literacy Development
References
Chapter 4: The Youngest Readers and Writers
Vignette: K–3 Students' Literacy Development
FOSTERING AN INTEREST IN LITERACY
Concepts About Print
Concepts About Words
Concepts About the Alphabet
Assessing Children's Concepts About Written Language
HOW CHILDREN DEVELOP AS READERS AND WRITERS
Stage 1: Emergent Reading and Writing
Stage 2: Beginning Reading and Writing
Stage 3: Fluent Reading and Writing
INSTRUCTIONAL PRACTICES
Morning Message
Shared Reading
Language Experience Approach
Interactive Writing
Manuscript Handwriting
Writing Centers
Accountability Check! Supporting the Youngest Readers and Writers
References
Chapter 5: Cracking the Alphabetic Code
Vignette: First Grade Phonics Instruction
PHONEMIC AWARENESS
Phonemic Awareness Strategies
Teaching Phonemic Awareness
Nurturing English Learners
Assessing Children's Phonemic Awareness
Why Is Phonemic Awareness Important?
PHONICS
Phonics Concepts
Teaching Phonics
Assessing Students' Phonics Knowledge
What's the Role of Phonics in a Balanced Literacy Program?
SPELLING
Stages of Spelling Development
Nurturing English Learners
Teaching Spelling
Weekly Spelling Tests
Assessing Students' Spelling
What's the Controversy About Spelling Instruction?
Accountability Check! Assisting Students in Cracking the Alphabetic Code
References
Chapter 6: Developing Fluent Readers and Writers
Vignette: High-Frequency Words
READING FLUENCY
Automatic Reading
Reading Speed
Prosody
Assessing Reading Fluency
WRITING FLUENCY
Automatic Writing
Writing Speed
Writer's Voice
Assessing Writing Fluency
Nurturing English Learners
DYSFLUENT STUDENTS
Older Dysfluent Readers
Older Dysfluent Writers
Obstacles to Fluency
Accountability Check! Developing Fluent Readers and Writers
References
Chapter 7: Expanding Academic Vocabulary
Vignette: The Word Wizards Club
ACADEMIC VOCABULARY
Three Tiers of Words
Nurturing English Learners
Levels of Word Knowledge
Word Consciousness
WORD-STUDY CONCEPTS
Multiple Meanings of Words
Synonyms: Words With Similar Meanings
Antonyms: Words That Mean the Opposite
Homonyms: Words That Confuse
Root Words and Affixes
Etymologies: Word Histories
Figurative Meanings
TEACHING STUDENTS TO UNLOCK WORD MEANINGS
Word Walls
Explicit Instruction
Word-Study Activities
Word-Learning Strategies
Incidental Word Learning
Assessing Students' Vocabulary Knowledge
Accountability Check! Expanding Students' Academic Vocabulary
References
Chapter 8: Promoting Comprehension: Reader Factors
Vignette: Comprehension Strategies
WHAT IS COMPREHENSION?
Reader and Text Factors
Text Complexity
Prerequisites for Comprehension
Comprehension Strategies
Comprehension Skills
TEACHING ABOUT READER FACTORS
Explicit Comprehension Instruction
Developing Comprehension Through Reading
Nurturing English Learners
Assessing Comprehension
MOTIVATION
The Teacher's Role
Students' Role
How to Engage Students
Assessing Motivation
Comparing Capable and Less Capable Readers and Writers
Accountability Check! Facilitating Students' Comprehension of Reader Factors
References
Chapter 9: Promoting Comprehension: Text Factors
Vignette: Reading and Writing About Frogs
TEXT FACTORS OF STORIES
Formats of Stories
Narrative Genres
Elements of Story Structure
Narrative Devices
Looking at the Text Factors in a Story
TEXT FACTORS OF NONFICTION BOOKS
Nonfiction Genres
Expository Text Structures
Nonfiction Features
Looking at the Text Factors in a Nonfiction Book
TEXT FACTORS OF POETRY
Formats of Poetry Books
Poetic Forms
Poetic Devices
Looking at the Text Factors in a Book of Poetry
TEACHING STUDENTS ABOUT TEXT FACTORS
Minilessons
Comprehension Strategies
Reading and Writing Activities
Assessing Students' Knowledge of Text Factors
Accountability Check! Facilitating Students' Comprehension of Text Factors
References
Chapter 10: Organizing for Instruction
Vignette: A Yearlong Author Study
TEACHING WITH BASAL READING PROGRAMS
Components of Basal Reading Programs
Materials Included in Basal Reading Programs
Managing a Basal Reading Program
TEACHING WITH LITERATURE FOCUS UNITS
Steps in Developing a Unit
Units Featuring a Picture Book
Units Featuring a Novel
Units Featuring a Genre
Units Featuring an Author
Managing Literature Focus Units
ORCHESTRATING LITERATURE CIRCLES
Key Features of Literature Circles
Implementing Literature Circles
Using Literature Circles With Young Children
Managing Literature Circles
IMPLEMENTING READING AND WRITING WORKSHOP
Reading Workshop
Writing Workshop
Managing a Workshop Classroom
Accountability Check! Organizing for Instruction
References
Chapter 11: Differentiating for Success
Vignette: Classroom Interventions
WAYS TO DIFFERENTIATE INSTRUCTION
Grouping for Instruction
Guided Reading
Text Sets
Tiered Activities
Literacy Centers
Differentiated Projects
STRUGGLING READERS AND WRITERS
Struggling Readers
Struggling Writers
Working With Struggling Students
Interventions
Accountability Check! Differentiating Literacy Instruction
References
Chapter 12: Reading and Writing in the Content Areas
Vignette: Multigenre Projects
CONNECTING READING AND WRITING
Reading Trade Books
Writing as a Learning Tool
Writing to Demonstrate Learning
CONTENT-AREA TEXTBOOKS
Features of Content-Area Textbooks
Making Content-Area Textbooks More Comprehensible
Learning How to Study
Why Aren't Content-Area Textbooks Enough?
THEMATIC UNITS
How to Develop a Thematic Unit
Nurturing English Learners
A First Grade Unit on Trees
A Fourth Grade Unit on Desert Ecosystems
A Sixth Grade Unit on Ancient Egypt
Accountability Check! Using Reading and Writing in the Content Areas
References
Compendium of Instructional Procedures
Anticipation Guides
Book Talks
Choral Reading
Clap and Chant
Cloze Procedure
Collaborative Books
Double-Entry Journals
Exclusion Brainstorming
Grand Conversations
Guided Reading
Hot Seat
Interactive Read-Alouds
Interactive Writing
K-W-L Charts
Language Experience Approach
Learning Logs
Making Words
Minilessons
Open-Mind Portraits
Possible Sentences
Prereading Plans
Question-Answer-Relationships
Questioning the Author
Quickwriting
RAFT
Readers Theatre
Reading Logs
Reciprocal Teaching
Revising Groups
Rubrics
Running Records
Semantic Feature Analysis
Shared Reading
Sketch-to-Stretch
Story Boards
Story Retelling
Studying Spelling Words
Sustained Silent Reading
Tea Party
Think-Alouds
Word Ladders
Word Sorts
Word Walls
Enhance your learning experience with text-specific study materials.