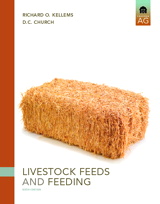 Description
For courses in Applied Animal Nutrition, Livestock Feeds and Feeding, and Advanced Livestock Feeding and Management.
This in-depth text concentrates on the practical application of nutrition for the production of effective, high-producing commercial livestock. With chapters written by the leading experts in their fields, Livestock Feeds and Feeding, Sixth Edition presents the required nutrients, nutrient utilization, a variety of feedstuffs and diets and their appropriate usage. Students will learn how to save money on feed costs and still raise larger, faster-gaining, more productive, healthier animals and increase the return investment on livestock.
Table of Contents
PART I: INTRODUCTION
1. Livestock Feeding
2. The Gastrointestinal Tract and Nutrient Utilization
3. Nutrients: Their Metabolism and Feeding Standards
PART II: FEEDS FOR LIVESTOCK
4. Feedstuffs
5. High-Energy Feedstuffs
6. Supplemental Protein Sources
7. Roughages
8. Mineral and Vitamin Supplements
9. Feed Additives
10. Feed Laws and Labeling
11. Feed Processing
12. Ration Formulation
PART III: LIVESTOCK SPECIES
13. Feeding Swine
14. Feeding Poultry
15. Feeding Dairy Cows
16. Feeding Dairy Calves and Replacement Heifers
17. Feeding the Beef Cow Herd
18. Feeding Growing–Finishing Beef Cattle
PART IV: FEEDING OTHER DOMESTICATED SPECIES
19. Feeding Horses
20. Sheep Nutrition
21. Goats and Goat Nutrition
22. Feeding and Nutrition of Companion and Zoological Species
23. Feeding Rabbits
PART V: APPENDIX TABLES AND GLOSSARY
APPENDIX TABLES
GLOSSARY
INDEX
Purchase Info ?
With CourseSmart eTextbooks and eResources, you save up to 60% off the price of new print textbooks, and can switch between studying online or offline to suit your needs.
Once you have purchased your eTextbooks and added them to your CourseSmart bookshelf, you can access them anytime, anywhere.
Buy Access
Livestock Feeds and Feeding, CourseSmart eTextbook, 6th Edition
Format: Safari Book
$79.99 | ISBN-13: 978-0-13-504743-9