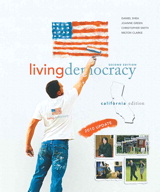 Description
Everything about this dynamic book—from its engaging writing and examples, to its bold graphics and photos, to its innovative learning pedagogy and interactive assessment—is designed to get students to participate in their learning, in the classroom, and in all aspects of American politics.
Lead author Dan Shea, along with co-authors Joanne Connor Green and Christopher E. Smith, teamed up to write an American Government text that helps students experience the impact of government in their daily lives and inspires them to work to affect that government in return. Written with the belief that the American Government course is critically important for our students—as well as for the long-term stability of the democratic process—Living Democracy helps students draw connections between course topics and current events and find a role for themselves in politics and government.
Now in its second edition, this attention-getting text is building on its message of participation: improvements to its innovative pedagogical system with even more assessment opportunities help students participate more effectively in their own learning process, while new Student Profiles of politically active young people from around the world continue to promote students' political participation.
Table of Contents
Part One: Foundations of American Government
1 American Government: Democracy in Action
2 Early Governance and the Constitutional Framework
Part Two: The Institutions of American Government
3 Federalism
4 The Judiciary
5 Civil Liberties
6 Civil Rights
7 Congress
8 The Presidency
Part Three: The American Public and the Democratic Process
9 Bureaucracy
10 Political Socialization and Public Opinion
11 The Politics of the Media
12 Civic and Political Engagement
13 Interest Groups
14 Elections and Political Participation in America
Part Four: Public Policy
15 Political Parties
16 Public Policy in the United States
17 Making Economic Policy
18 Foreign and National Security Policy
19 California Historical Perspective
20 Democracy, California Style
21 The California State Legislature
22 The California Executive and Bureaucracy
23 The California Judiciary
24 Local Government In California
25 California Fiscal Policy