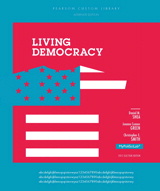 Description
Participate in your American government.
This version of Living Democracy, 2012 Election Edition comes without the policy chapters and is available only through the Pearson Custom Library (PCL). To order, click here http://www.pearsoncustomlibrary.com/?lib=40&act=listbooks#book:339.
PCL allows customers to create customized textbooks, giving students a more engaging and affordable education. Customers also have the option of purchasing the full text without customization in the Pearson Custom Library. For more information about customization opportunities, refer to www.pearsoncustomlibrary.com.
Because this program is print-on-demand, printing will not start until we receive a purchase order from your bookstore. Please place your book order with the bookstore as soon as possible to ensure timely delivery.
Please allow 2-4 weeks for your book to print. Additional time is required for outside content and/or packaging with other components.
Table of Contents
Chapter 1: American Government: Democracy in Action
Chapter 2: Early Governance and the Constitutional Framework
Chapter 3: Federalism
Chapter 4: Civil Liberties
Chapter 5: Civil Rights
Chapter 6: Congress
Chapter 7: The Presidency
Chapter 8: Bureaucracy
Chapter 9: The Judiciary
Chapter 10: Political Socialization and Public Opinion
Chapter 11: The Politics of the Media
Chapter 12: Interest Groups and Civic and Political Engagement
Chapter 13: Elections and Political Parties in America
Glossary
Notes
Credits
Index
Answer Key
Purchase Info
ISBN-10: 0-205-96606-3
ISBN-13: 978-0-205-96606-6
Format: Alternate Binding
This publication is not currently for sale.