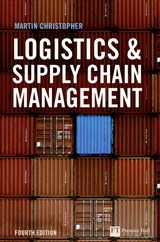 Description
Effective development and management of a supply chain network is an invaluable source of sustainable advantage in today's turbulent global marketplace, where demand is difficult to predict and supply chains need to be more flexible as a result.
This updated 4th edition of the bestselling Logistics and Supply Chain Management is a clear-headed guide to all the key topics in an integrated approach to supply chains, including:
• The link between logistics and customer value.
• Logistics and the bottom line measuring costs and performance.
• Creating a responsive supply chain.
• Managing the global pipeline.
• Managing supply chain relationships.
• Managing risk in the supply chain.
• Matching supply and demand.
• Creating a sustainable supply chain.
• Product design in the supply chain.
Table of Contents
Table of Contents
The 4 new chapters will be worked into the structure where appropriate: exact order to be decided
Managing Supply Chain Relationships
Product Design in the Supply Chain
Matching Supply and Demand
Creating a Sustainable Supply Chain
Chapter 1 : Logistics, the Supply Chain & Competitive Strategy
Chapter 2 : Logistics & Customer Value
Chapter 3 : Measuring Logistics Costs and Performance
Chapter 4 : Creating the Responsive Supply Chain
Chapter 5 : Strategic Lead-Time Management
Chapter 6: The Synchronous Supply Chain
Chapter 7 : Managing the Global Pipeline
Chapter 8: Managing Risk in the Supply Chain
Chapter 9: Overcoming the Barriers to Supply Chain Integration
Chapter 10: Entering the Era of Network Competition
Purchase Info ?
With CourseSmart eTextbooks and eResources, you save up to 60% off the price of new print textbooks, and can switch between studying online or offline to suit your needs.
Once you have purchased your eTextbooks and added them to your CourseSmart bookshelf, you can access them anytime, anywhere.
Buy Access
Logistics and Supply Chain Management CourseSmart eTextbook
Format: Safari Book
$41.99 | ISBN-13: 978-1-292-00326-9