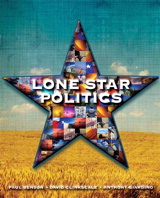 Description
Debuting in its first edition Lone Star Politics is a straightforward, engaging text that focuses on the pragmatic nature of Texas politics. The authors encourage students to become active participants in the political process by emphasizing that politics is a process by which people seek and utilize power.
Note: MyPoliSciLab does not come automatically packaged with this text. To purchase MyPoliSciLab, please visit:
www.mypoliscilab.com or you can purchase a valuepack of the text + MyPoliSciLab (at no additional cost): ValuePack ISBN-10: 0205926002
Table of Contents
Chapter 1: Texas Society and Political Culture
Chapter 2: Federalism and the Texas Constitution
Chapter 3: Political Participation: Voting and Elections
Chapter 4: Political Parties
Chapter 5: Interest Groups in Texas Politics
Chapter 6: The Legislature in Texas Politics
Chapter 7: The Governor
Chapter 8: The Plural Executive and the Bureaucracy
Chapter 9: The Texas Courts System
Chapter 10: The Judicial System and Due Process
Chapter 11: Local and County Governments and Special Districts
Chapter 12: Finance and Budgeting
Purchase Info
ISBN-10: 0-13-605769-1
ISBN-13: 978-0-13-605769-7
Format: Alternate Binding
Digital Choices ?
MyLab & Mastering with Pearson eText is a complete digital substitute for a print value pack at a lower price.
MyLab & Mastering ?
MyLab & Mastering products deliver customizable content and highly personalized study paths, responsive learning tools, and real-time evaluation and diagnostics. MyLab & Mastering products help move students toward the moment that matters most—the moment of true understanding and learning.
+ Other Options
eTextbook ?
With CourseSmart eTextbooks and eResources, you save up to 60% off the price of new print textbooks, and can switch between studying online or offline to suit your needs.
Once you have purchased your eTextbooks and added them to your CourseSmart bookshelf, you can access them anytime, anywhere.