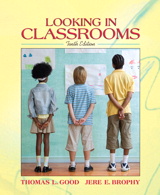 Description
This classic text by distinguished scholars provides a balanced, research-based overview of the most effective teaching methods for today's modern classroom. Widely considered to be the most comprehensive and authoritative source available on effective teaching, Looking in Classrooms synthesizes the knowledge base on student motivation, classroom teaching, teacher expectations, and adapting instruction for individual learners.
In over three decades of continuous publication, this text represents state-of-the-art research reviews in several areas including student motivation, classroom instruction and student learning, classroom management, and adapting instruction to the needs of individual students. It addresses the core topics of classroom instruction in an accessible fashion, promoting easy transfer to classroom practice. The text also provides useful information about how to use quantitative and qualitative observational techniques for describing and improving instruction.
The text is well-organized, easy to read, and focused on the real concerns of individual classroom teachers at all grade levels. The authors have a significant understanding and feel for the K-12 classroom and the issues and situations that teachers face everyday. Users consistently provide feedback that students enjoy the book, and that many of them keep it to help them when they enter the classroom.
This text integrates rigorous theory and empirical research and the practical value of this knowledge for classroom practice. It has been used in undergraduate courses for teachers in training and in master-level courses for teachers, administrators, and superintendents.
Table of Contents
PREFACE.


1. CLASSROOM LIFE
Action-System Knowledge
Analysis of the Class Discussion
Learning to Analyze Classrooms
Effective Teaching
Increasing Teacher Awareness Through Classroom
Observation
Classrooms are Complex
Teachers' Awareness of their Classroom Behavior
Benefits of Classroom Observation
Observational Records
Dangers of Interpretation
Case Study Techniques
Simplifying the Observational Task
Reliability of Observations
General Plan for Observing in Classrooms
Using Research and Observational Feedback
Teachers as Decision Makers
Summary
Suggested Activities and Questions
2. TEACHER EXPECTATIONS
Two Types of Teacher Expectation Effects
How Expectations Become Self-Fulfilling
Brophy and Good's Model
Practice Examples
Analysis of Examples
How Teachers Form Expectations
How Teachers Communicate Expectations to Students
Students' Perceptions of Differential Teacher Treatment
Factors that Effect Expectation Communication
Group, Class, and School Expectation Effects
Expectation Effects on Students' Personal and Social Development
Making Expectations Work for You
Conclusion
Suggested Activities and Questions
3. MANAGEMENT I: PREVENTING PROBLEMS
Management Research
Classroom Vignettes
Student Role
Classroom Examples
Essential Teacher Attitudes
The Teacher as a Model
General Management Principles
Management as Motivation and Problem Prevention
Getting the School Year Off to a Good Start
Maintaining an Effective Learning Environment
Getting and Holding Attention
Independent Work
Self-Regulated Management
Expanded Conceptions of Teaching and Management
Managing Small-Group Learning
Summary
Suggested Activities and Questions
4. MANAGEMENT II: COPING WITH PROBLEMS EFFECTIVELY
Classroom Vignettes
What Management Problems Do Teachers Face?
Dealing with Minor Inattention and Misbehavior
Dealing with Prolonged or Disruptive Misbehavior
Conflict Resolution
Punishment
Choosing Your Role
Teachers as Socialization Agents
Coping with Serious Adjustment Problems
Analyzing Problem Behavior
Other Approaches to Classroom Management
Bearing the Unbearable
Summary
Suggested Activities and Questions
5. MOTIVATION
Strategies for Motivating Students
Basic Motivational Concepts
Expectancy x Value Model of Motivation
Essential Preconditions for Successful Use of Motivational Strategies
Motivating by Maintaining Success Expectations
Inducing Students to Value Learning Activities
Strategies for Supplying Extrinsic Motivation
Strategies for Capitalizing on Students' Intrinsic Motivation
Strategies for Stimulating Student Motivation to Learn
Summary
Suggested Activities and Questions
6. STUDENTS' INTERACTIONS WITH ONE ANOTHER
Educational Excellence and Equity
Between-Class Grouping (Tracking)
Within-Class Ability Grouping
Cooperative Learning
Research on Cooperative Learning Methods
Limitations of Findings on Small-Group Learning
Potential Advantages and Disadvantages of Cooperative Groups
Conclusions from Research on Cooperative Learning
Implementation Guidelines: Cooperative Learning
Providing Opportunity for Self-Evaluation
Arranging Tutorial Assistance for Students
Learning in Dyads
Implementation Guidelines: Peer Tutoring
Summary
Suggested Activities and Questions
7. ADDRESSING HETEROGENITY IN LEARNING ABILITY AND ACHIEVEMENT PROGRESS
A Heterogeneous Classroom
Toward the Inclusive Classroom
Helping Struggling Students to Succeed: A Historical and Research-Based Perspective
Mastery Learning
Differentiated Instruction
Curriculum-Based Measurement
General Principles for Differentiating Instruction
Independent Work and Learning Centers
Summary
Suggested Activities and Questions
8. AFFIRMING THE CULTURES AND SUPPORTING ACHIEVEMENTS OF DIVERSE STUDENTS
Vignette
Introduction
Toward Culturally Responsive Teaching
Teaching English Language Learners
Teaching in Urban Schools
Cultivate Parent Involvement
Personalizing in Response to Individual Differences
Gender Differences
Learning Style Differences
Accommodating Students' Personal Characteristics
Summary
Suggested Activities and Questions
9. TEACHING WORTHWHILE CONTENT FOR UNDERSTANDING APPRECIATION AND APPLICATION
Sources of Curriculum
Content Selection and Representation
Teaching for Understanding, Appreciation, and Application of Knowledge
Knowledge Networks
Teach Important Content in Depth
Focus on Powerful Ideas
Authentic Activities
Teaching for Understanding: Subject-Specific Examples
Keep the Goals in Sight
Teaching for Understanding in an Era of High-Stakes Testing
So What Can You Do in the Meantime?
Summary
Suggested Activities and Questions
10. ACTIVE TEACHING
Instructional Methods As Means To Accomplish Curricular Goals
Research Relating Teacher Behavior To Student Learning
Presenting Information to Students
Developing Understandings through Interactive Discourse
Structuring and Scaffolding Activities and Assignments
Summary
Suggested Activities and Questions
11. HELPING STUDENTS TO CONSTRUCT USABLE KNOWLEDGE
Basic Constructivist Principles
Social Constructivist Views of Learning and Teaching
Sociocultural Views of Learning and Teaching
Subject-Specific Variations on Basic Instructional Models
Constructivist Teaching: Appealing But Difficult
Blending Information Presentation with Social Construction of Knowledge
Conclusions About Constructivist Teaching
Matching Teaching Methods to Learning Goals
Matching Teaching Methods to Learning Goals
Using Research to Inform Your Teaching
Suggested Activities and Questions
12. ASSESSING STUDENTS' LEARNING
Introduction
Essay Test Items
Objective Test Items
Other Forms of Objective Questions
Conclusions: Types of Test Items
Additional Assessment Procedures
Using Rating Scales
Portfolios
Implications for Teachers
Summary
Suggested Activities and Questions
13. TECHNOLOGY AND CLASSROOM TEACHING
Introduction
Computer Use in the Classroom
Some Helpful Technology Tools
What Knowledge of Technology do Students Have?
Developing Your Own Assignments to Personalize Learning
Social Studies and Science
Managing Technology Use
Conclusion
Suggested Activities and Questions
14. GROWING AS A TEACHER
Classroom Vignettes
Obstacles to Teacher Self-Improvement
Experimenting and Improving
Improving Workplace Conditions for Teaching
Schools as Social Systems
The Growing Importance of Staff Development
In-Service on School Level Concerns
Summary
Suggested Activities and Questions
Purchase Info ?
With CourseSmart eTextbooks and eResources, you save up to 60% off the price of new print textbooks, and can switch between studying online or offline to suit your needs.
Once you have purchased your eTextbooks and added them to your CourseSmart bookshelf, you can access them anytime, anywhere.
Buy Access
Looking in Classrooms, CourseSmart eTextbook, 10th Edition
Format: Safari Book
$70.99 | ISBN-13: 978-0-205-61514-8