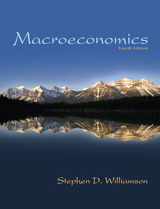 Description
Williamson's Macroeconomics uses a thoroughly modern approach that is consistent with the way that macroeconomic research is conducted today. The text builds macroeconomic models from a foundation of microeconomic principles. This methodology prepares students for further study in economics by allowing deeper insight into growth processes and business cycles, integrating the study of macroeconomics with microeconomics, and maintaining consistency with current methods of macroeconomic research.
Table of Contents
Part I. Introduction and Measurement Issues
Chapter 1: Introduction
Chapter 2: Measurement
Chapter 3: Business Cycle Measurement
Part II. A One-Period Model of the Macroeconomy
Chapter 4: Consumer and Firm Behavior: The Work–Leisure Decision and Profit Maximization
Chapter 5: A Closed-Economy One-Period Macroeconomic Model
Part III. Economic Growth
Chapter 6: Economic Growth: Malthus and Solow
Chapter 7: Income Disparity Among Countries and Endogenous Growth
Part IV. Savings, Investment, and Government Deficits
Chapter 8: A Two-Period Model: The Consumption–Savings Decision and Credit Markets
Chapter 9: Credit Market Imperfections: Credit Frictions, Financial Crises, and Social Security
Chapter 10: A Real Intertemporal Model with Investment
Part V. Money and Business Cycles
Chapter 11: Money, Banking, Prices, and Monetary Policy
Chapter 12: Market-Clearing Models of the Business Cycle
Chapter 13: New Keynesian Economics: Sticky Prices
Part VI. International Macroeconomics
Chapter 14: International Trade in Goods and Assets
Chapter 15: Money in the Open Economy
Part VII. Topics in Macroeconomics
Chapter 16: Money, Inflation, and Banking
Chapter 17: Unemployment: Search and Efficiency Wages
Chapter 18: Inflation, the Phillips Curve, and Central Bank Commitment


Purchase Info ?
With CourseSmart eTextbooks and eResources, you save up to 60% off the price of new print textbooks, and can switch between studying online or offline to suit your needs.
Once you have purchased your eTextbooks and added them to your CourseSmart bookshelf, you can access them anytime, anywhere.
Buy Access
Macroeconomics, CourseSmart eTextbook, 4th Edition
Format: Safari Book
$97.80 | ISBN-13: 978-0-13-136877-4