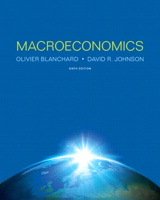 Description
For intermediate economics courses.
Blanchard presents a unified and global view of macroeconomics, enabling students to see the connections between the short-run, medium-run, and long-run.
Table of Contents
Chapter 1. A Tour of the World
Chapter 2. A Tour of the Book
Chapter 3. The Goods Market
Chapter 4. Financial Markets
Chapter 5. Goods and Financial Markets: The IS-LM Model
Chapter 6. The Labor Market
Chapter 7 Putting All Markets Together: The AS/AD Model
Chapter 8. The Phillips Curve, the Natural Rate of Unemployment, and Inflation
Chapter 9. The Crisis
Chapter 10. The Facts of Growth
Chapter 11. Saving, Capital Accumulation, and Output
Chapter 12. Technological Progress and Growth
Chapter 13. Technological Progress. The Short, the Medium, and the Long Run
Chapter 14. Expectations: The Basic Tools
Chapter 15. Financial Markets and Expectations
Chapter 16. Expectations, Consumption, and Investment
Chapter 17. Expectations, Output, and Policy
Chapter 18. Openness in Goods and Financial Markets
Chapter 19. The Goods Market in an Open Economy
Chapter 20. Output, the Interest Rate, and the Exchange Rate
Chapter 21. Exchange Rate Regimes
Chapter 22. Should Policy Makers be Restrained?
Chapter 23. Fiscal Policy: A Summing Up
Chapter 24. Monetary Policy: A Summing Up
Chapter 25. Epilogue: The Story of Macroeconomics

Purchase Info ?
With CourseSmart eTextbooks and eResources, you save up to 60% off the price of new print textbooks, and can switch between studying online or offline to suit your needs.
Once you have purchased your eTextbooks and added them to your CourseSmart bookshelf, you can access them anytime, anywhere.
Buy Access
Macroeconomics, CourseSmart eTextbook, 6th Edition
Format: Safari Book
$110.99 | ISBN-13: 978-0-13-307621-9