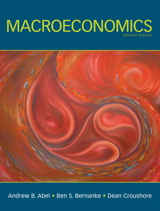 Description
Abel, Bernanke, and Croushore present macroeconomic theory in a way that prepares students to analyze real macroeconomic data used by policy makers and researchers. With a balanced treatment of both classical and Keynesian economics, the comprehensive coverage makes it easy for instructors to align chapters to fit their own syllabi.

Students in this course often struggle to see how the macroeconomic models compare to one another, and fit into the big picture. This text uses a unified approach based on a single economics model that provides students with a clear understanding of macroeconomics and its classical and Keynesian assumptions.


Table of Contents
PART 1 INTRODUCTION
Chapter 1 Introduction to Macroeconomics
Chapter 2 The Measurement and Structure of the National Economy
PART 2 LONG-RUN ECONOMIC PERFORMANCE
Chapter 3 Productivity, Output, and Employment
Chapter 4 Consumption, Saving, and Investment
Chapter 5 Saving and Investment in the Open Economy
Chapter 6 Long-Run Economic Growth
Chapter 7 The Asset Market, Money, and Prices
PART 3 BUSINESS CYCLES AND MACROECONOMIC POLICY
Chapter 8 Business Cycles
Chapter 9 The IS-LM/AD-AS Model: A General Framework for Macroeconomic Analysis
Chapter 10 Classical Business Cycle Analysis: Market-Clearing Macroeconomics
Chapter 11 Keynesianism: The Macroeconomics of Wage and Price Rigidity
PART 4 MACROECONOMIC POLICY: ITS ENVIRONMENT AND INSTITUTIONS
Chapter 12 Unemployment and Inflation
Chapter 13 Exchange Rates, Business Cycles, and Macroeconomic Policy in the Open Economy
Chapter 14 Monetary Policy and the Federal Reserve System
Chapter 15 Government Spending and Its Financing


Purchase Info ?
With CourseSmart eTextbooks and eResources, you save up to 60% off the price of new print textbooks, and can switch between studying online or offline to suit your needs.
Once you have purchased your eTextbooks and added them to your CourseSmart bookshelf, you can access them anytime, anywhere.
Buy Access
Macroeconomics, CourseSmart eTextbook, 7th Edition
Format: Safari Book
$97.99 | ISBN-13: 978-0-13-611493-2