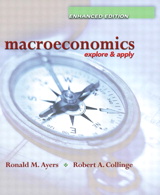 Description
For two-semester courses in Principles of Economics.
This easy to read, accessible, macro-first principles text engages students with familiar real-world examples and applications that bring economics to life. The authors follow an Explore & Apply theme to show students how economics is a part of their everyday lives and how it can be a useful tool in making personal decisions and evaluating policy decisions.
Table of Contents
(NOTE:
Each chapter contains sections titled A look Ahead, Chapter Summary, Key Terms, Test Yourself, Questions and Problems, and Working with Graphs and Data.
)
I. A JOURNEY THROUGH THE ECONOMY.
1. The Economic Perspective.
2. Production and Trade.
3. Demand and Supply.
4. The Power of Prices.
II. MONITORING THE MACRO ECONOMY.
5. Measuring National Output.
6. Unemployment.
7. Inflation.
III. AGGREGATE SUPPLY AND AGGREGATE DEMAND.
8. A Framework for Macroeconomic Analysis.
9. Fiscal Policy and Short-Run Instability.
10. Aggregate Expenditures.
IV. INCENTIVES FOR PRODUCTIVITY.
11. Fiscal Policy in Action.
12. Economic Growth.
V. MONEY IN THE MACROECONOMY.
13. Money, Banking, and the Federal Reserve.
14. Monetary Policy and Price Stability.
VI. THE GLOBAL ECONOMY.
27. Into the International Marketplace.
28. Policy Toward Trade.
29. Economic Development.
Purchase Info ?
With CourseSmart eTextbooks and eResources, you save up to 60% off the price of new print textbooks, and can switch between studying online or offline to suit your needs.
Once you have purchased your eTextbooks and added them to your CourseSmart bookshelf, you can access them anytime, anywhere.
Buy Access
Macroeconomics: Explore and Apply, Enhanced Edition, CourseSmart eTextbook
Format: Safari Book
$72.40 | ISBN-13: 978-0-13-128772-3