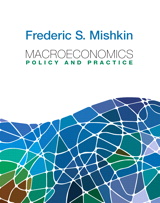 Description
For courses in Intermediate Macroeconomics.

Mishkin offers the most current and relevant policies and practice.

Building on his expertise in macroeconomic policymaking at the Federal Reserve, Mishkin's Macroeconomics: Policy and Practice provides a theoretical framework that illustrates the most current and relevant policy debates in the field.


Table of Contents
PART 1: INTRODUCTION
Chapter 1. Introduction: The Policy and Practice of Macroeconomics
Chapter 2. Measuring Macroeconomic Data
PART 2: MACROECONOMIC BASICS
Chapter 3. Aggregate Production and Productivity
Chapter 4. Saving and Investment in Closed and Open Economies
Chapter 5. Money and Inflation
PART 3: LONG-RUN ECONOMIC GROWTH
Chapter 6. The Sources of Growth and the Solow Model
Chapter 7. Drivers of Growth: Technology, Policy, and Institutions
PART 4: BUSINESS CYCLES: THE SHORT-RUN
Chapter 8. Business Cycles: An Introduction
Chapter 9. The IS Curve
Chapter 10. Monetary Policy and Aggregate Demand
Chapter 11. Aggregate Supply and the Phillips Curve
Chapter 12. The Aggregate Demand and Supply Model
Chapter 13. Macroeconomic Policy and Aggregate Demand and Supply Analysis
PART 5: FINANCE AND THE MACROECONOMY
Chapter 14. The Financial System and Economic Growth
Chapter 15. Financial Crises and the Economy
PART 6: MACROECONOMIC POLICY
Chapter 16. Fiscal Policy and the Government Budget
Chapter 17. Exchange Rates and International Economic Policy
PART 7: MICROECONOMIC FOUNDATIONS OF MACROECONOMICS
Chapter 18. Consumption and Saving
Chapter 19. Investment
Chapter 20. The Labor Market, Employment, and Unemployment
PART 8: MODERN BUSINESS CYCLE ANALYSIS AND MACROECONOMIC POLICY
Chapter 21. The Role of Expectations in Macroeconomic Policy
Chapter 22. Modern Business Cycle Theory


Purchase Info ?
With CourseSmart eTextbooks and eResources, you save up to 60% off the price of new print textbooks, and can switch between studying online or offline to suit your needs.
Once you have purchased your eTextbooks and added them to your CourseSmart bookshelf, you can access them anytime, anywhere.
Buy Access
Macroeconomics: Policy and Practice, Coursesmart eTextbook
Format: Safari Book
$110.99 | ISBN-13: 978-0-13-139364-6