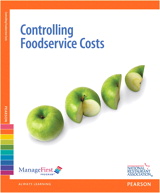 Description
Appropriate for CONTROLLING FOODSERVICE COSTS courses within Culinary Arts and Hospitality Management departments.
This text focuses on CONTROLLING FOODSERVICE COSTStopics. It includes essential content plus learning activities, case studies, professional profiles, research topics and more that support course objectives.
The exam can be taken in either a paper-and-pencil or online format. The exam format is selected at the time of purchase.
The text and exam are part of the NRAEF ManageFirst Program from the National Restaurant Association Educational Foundation. This edition is created to teach restaurant and hospitality students the core competencies of the Ten Pillars of Restaurant Management. The Ten Pillars of Restaurant Management is a job task analysis created with the input and validation of the industry that clearly indicates what a restaurant management professional must know in order to effectively and efficiently run a safe and profitably operation. The NRAEF ManageFirst Program training program is based on a set of competencies defined by the restaurant, hospitality and foodservice industry as those needed for success. This competency-based program includes 10 topics each with a Competency Guide, exam, Instructor Resources, certificate and credential.*
This Competency Guide includes a Paper-and-Pencil version of the exam answer sheet.
Table of Contents
About the National Restaurant Association and the National Restaurant Association Educational Foundation
Acknowledgements
Features of the ManageFirst Books
Real Manager
1 – The Importance of Cost Control in Restaurants
2 – Restaurant Forecasting and Budgeting
3 – Calculating Food Costs
4 – Determining Menu Prices
5 – Controlling Food Costs in Purchasing
6 – Controlling Food Costs in Receiving, Storage, and Issuing
7 – Controlling Food Costs During Production
8 – Controlling Labor and Other Restaurant Costs
9 – Managing Buffets, Banquets, and Catered Events
10 – Projecting Restaurant Revenue
Field Project
Glossary
Index
Purchase Info ?
With CourseSmart eTextbooks and eResources, you save up to 60% off the price of new print textbooks, and can switch between studying online or offline to suit your needs.
Once you have purchased your eTextbooks and added them to your CourseSmart bookshelf, you can access them anytime, anywhere.
Buy Access
ManageFirst: Controlling FoodService Costs, CourseSmart eTextbook, 2nd Edition
Format: Safari Book
$31.99 | ISBN-13: 978-0-13-272483-8