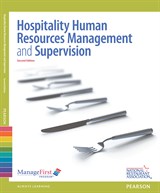 Description
This text focuses on HUMAN RESOURCES MANAGEMENT & SUPERVISION topics. It includes essential content plus learning activities, case studies, professional profiles, research topics and more that support course objectives.
The text and exam are part of the ManageFirst Program® from the National Restaurant Association (NRA). This edition is created to teach restaurant and hospitality students the core competencies of the Ten Pillars of Restaurant Management. The Ten Pillars of Restaurant Management is a job task analysis created with the input and validation of the industry that clearly indicates what a restaurant management professional must know in order to effectively and efficiently run a safe and profitable operation. The ManageFirst Program training program is based on a set of competencies defined by the restaurant, hospitality and foodservice industry as those needed for success. This competency-based program features 10 topics each with a textbook, online exam prep for students, instructor resources, a certification exam, certificate, and credential. The online exam prep for students is available with each textbook and includes helpful learning modules on test-taking strategies, practice tests for every chapter, a comprehensive cumulative practice test, and more!
This textbook includes an exam answer sheet to be used with the paper-and-pencil version of the ManageFirst certification exam.
Table of Contents
1 FOOD SERVICE OPERATIONS ARE LABOR-INTENSIVE
2 RECRUITING THE BEST EMPLOYEES
3 EMPLOYEE ORIENTATION AND TRAINING
4 FOUNDATIONS OF EFFECTIVE EMPLOYEE PERFORMANCE
5 FACILITATING EMPLOYEES' WORK PERFORMANCE
6 MEETING WORKSHIFT STANDARDS
7 EMPLOYEE PROFESSIONAL DEVELOPMENT PROGRAMS
8 ENSURING A LAWFUL WORKPLACE
9 EMPLOYEE COMPENSATION AND BENEFITS
10 MANAGING A SAFE AND HEALTHY WORKPLACE
Enhance your learning experience with text-specific study materials.
This title is also sold in the various packages listed below. Before purchasing one of these packages, speak with your professor about which one will help you be successful in your course.
Package ISBN-13: 9780134629261
Includes this title packaged with:
ManageFirst: Hospitality and Restaurant Management with Answer Sheet, 2nd Edition
. . National Restaurant Association
$159.99 $151.99 | Add to Cart