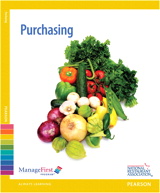 Description
This text focuses on INVENTORY AND PURCHASING topics. It includes essential content plus learning activities, case studies, professional profiles, research topics and more that support course objectives.
The text and exam are part of the ManageFirst Program® from the National Restaurant Association (NRA). This edition is created to teach restaurant and hospitality students the core competencies of the Ten Pillars of Restaurant Management. The Ten Pillars of Restaurant Management is a job task analysis created with the input and validation of the industry that clearly indicates what a restaurant management professional must know in order to effectively and efficiently run a safe and profitable operation. The ManageFirst Program training program is based on a set of competencies defined by the restaurant, hospitality and foodservice industry as those needed for success. This competency-based program features 10 topics each with a textbook, online exam prep for students, instructor resources, a certification exam, certificate, and credential.* The online exam prep for students is available with each textbook and includes helpful learning modules on test-taking strategies, practice tests for every chapter, a comprehensive cumulative practice test, and more!
This textbook includes an online testing voucher to be used with the online version of the ManageFirst certification exam.
Note: This Voucher can only be purchased new and can only be used by the original purchaser.
Table of Contents
About the National Restaurant Association and the National Restaurant Association Educational Foundation
Acknowledgements
Features of the ManageFirst Books
Real Manager
1 — Introduction to Purchasing
2 — Quality Requirements
3 — Purchase Quantity Requirements
4 — Selecting Vendors
5 — Ordering Products: Pricing Decisions
6 — Ordering Products: Use Effective Procedures
7 — Purchasing Ethics and Vendor Relations
8 — Purchasing Follow-up
Field Project
Glossary
Index
This title is also sold in the various packages listed below. Before purchasing one of these packages, speak with your professor about which one will help you be successful in your course.
Package ISBN-13: 9780134507002
Includes this title packaged with:
ManageFirst: Hospitality and Restaurant Management w/Online Testing Voucher, 2nd Edition
. . National Restaurant Association
ManageFirst: Controlling FoodService Costs with Online Testing Voucher, 2nd Edition
. . National Restaurant Association
$215.97 $205.17 | Add to Cart