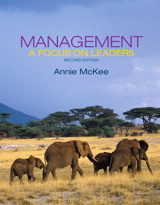 Description
For Principles of Management courses.


We need leadership now.
Financial crises, catastrophic disasters, and business scandals are constantly making today's headlines. Annie McKee, author of the textbook
Management: A Focus on Leaders
, believes that amidst these issues we are experiencing a unique opportunity to add new fervor to the way we prepare students for the future. Directly addressing the challenges and opportunities in our changing world,
Management: A Focus on Leaders
shows future managers how to lead in a complex, yet exciting, global environment.
Visit
WeNeedLeadershipNow.com
to find out more about Management: A Focus on Leaders.
Table of Contents
1. Managing and Leading Today: The New Rules.
2. The Leadership Imperative: It's Up to You.
3. Motivation and Meaning: What Makes People Want to Work?
4. Communication: The Key to Resonant Relationships.
5. Planning and Strategy: Bringing the Vision to Life.
6. The Human Side of Planning: Decision Making and Critical Thinking.
7. Change: A Focus on Adaptability and Resiliency.
8. Workplace Essentials: Creativity, Innovation, and a Spirit of Entrepreneurship.
9. Organizing for a Complex World: Forces Affecting Organizational Structure and Design.
10. Teams and Team Building: How to Work Effectively with Others.
11. Working in a Virtual World: Technology as a Way of Life.
12. Organizational Controls: People, Processes, Quality, and Results.
13. Culture: It's Powerful.
14. Globalization: Managing Effectively in a Global Economic Environment.
15. Sustainability and Corporate Social Responsibility: Ensuring the Future.
16. Managing and Leading for Tomorrow: A Focus on Your Future.
Purchase Info ?
With CourseSmart eTextbooks and eResources, you save up to 60% off the price of new print textbooks, and can switch between studying online or offline to suit your needs.
Once you have purchased your eTextbooks and added them to your CourseSmart bookshelf, you can access them anytime, anywhere.
Buy Access
Management: A Focus on Leaders, CourseSmart eTextbook, 2nd Edition
Format: Safari Book
$107.99 | ISBN-13: 978-0-13-307758-2