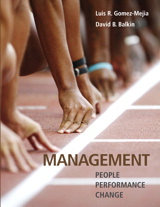 Description
For Principles of Management courses.

The basics of management—and beyond.

Students often assume the role of a manager is no different than that of a traditional "boss"—someone who hires/fires, doles out raises/promotions, and tells employees what to do. Management takes students beyond these preconceived notions by exposing them to the full spectrum of management practices and concepts that will help them succeed as managers in today's business world.


Table of Contents
1. Management and its evolution
2. Managing in a global environment
3. Ethics and social responsibility
4. Culture and change
5. Managing the planning process
6. Decision making
7. Strategic Management
8. Entrepreneurship and innovation
9. Organization structure
10. Human Resource Management
11. Managing Employee Diversity
12. Leadership and Motivation
13.Managing teams
14. Managing communication
15. Operations management and control
Purchase Info ?
With CourseSmart eTextbooks and eResources, you save up to 60% off the price of new print textbooks, and can switch between studying online or offline to suit your needs.
Once you have purchased your eTextbooks and added them to your CourseSmart bookshelf, you can access them anytime, anywhere.
Buy Access
Management, CourseSmart eTextbook
Format: Safari Book
$65.99 | ISBN-13: 978-0-13-217641-5