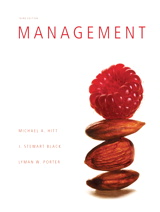 Description
For undergraduate and graduate Principles of Management courses.
This text connects theory with practice, incorporating the latest research findings to make management relevant and exciting to aspiring managers.
Table of Contents
PART 1. MANAGING ETHICALLY AND GLOBALLY
Chapter 1. The Nature of Management
Chapter 2. Social Responsiblity and Managerial Ethics
Chapter 3. International Management and Globalization
PART 2. PLANNING AND ORGANIZING
Chapter 4. Strategic Management
Chapter 5. Planning
Chapter 6. Organizational Structure and Design
Chapter 7. Managing Diverse Human Resources
PART 3. LEADING
Chapter 8. Leadership
Chapter 9. Motivation
Chapter 10. Groups and Teams
Chapter 11. Communication and Negotiation
Chapter 12. Individual and Group Decision Making
PART 4. CONTROLLING
Chapter 13. Operations Management
Chapter 14. Control
Chapter 15. Organizational Change and Development
Purchase Info ?
With CourseSmart eTextbooks and eResources, you save up to 60% off the price of new print textbooks, and can switch between studying online or offline to suit your needs.
Once you have purchased your eTextbooks and added them to your CourseSmart bookshelf, you can access them anytime, anywhere.
Buy Access
Management, CourseSmart eTextbook, 3rd Edition
Format: Safari Book
$120.99 | ISBN-13: 978-0-13-255329-2