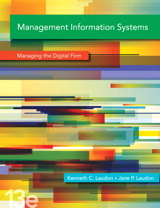 Description
Directed primarily toward undergraduate CIS/MIS college/university majors, this text also provides practical content to current and aspiring industry professionals.

Management Information Systems provides comprehensive and integrative coverage of essential new technologies, information system applications, and their impact on business models and managerial decision making in an exciting and interactive manner.
Note: This is the standalone book, if you want the book/access card order the ISBN below:
0133130789 / 9780133130782 Management Information Systems Plus MyMISLab with Pearson eText -- Access Card Package
Package consists of:
0133050696 / 9780133050691 Management Information 13/e
0133058328 / 9780133058321 myMISlab with Pearson eText -- Access Card -- for Management Information Systems
Table of Contents
PART I. ORGANIZATIONS, MANAGEMENT, AND THE NETWORKED ENTERPRISE
1. Information Systems in Global Business Today
2. Global E-Business and Collaboration
3. Information Systems, Organizations, and Strategy
4. Ethical and Social Issues in Information Systems

PART II. INFORMATION TECHNOLOGY INFRASTRUCTURE
5. IT Infrastructure and Emerging Technologies
6. Foundations of Business Intelligence: Databases and Information Management
7. Telecommunications, the Internet, and Wireless Technology
8. Securing Information Systems

PART III. KEY SYSTEM APPLICATIONS FOR THE DIGITAL AGE
9. Achieving Operational Excellence and Customer Intimacy: Enterprise Applications
10. E-Commerce: Digital Markets, Digital Goods
11. Managing Knowledge
12. Enhancing Decision Making

PART IV. BUILDING AND MANAGING SYSTEMS
13. Building Information Systems
14. Managing Projects
15. Managing Global Systems


This title is also sold in the various packages listed below. Before purchasing one of these packages, speak with your professor about which one will help you be successful in your course.
Package ISBN-13: 9780133871791
Includes this title packaged with:
MyITLab for MIS with Pearson eText -- Access Card -- for Management Information Systems: Managing the Digital Firm, 13th Edition
Kenneth C. Laudon, Jane P. Laudon
$291.93 | Add to Cart
Purchase Info
Digital Choices ?
MyLab & Mastering with Pearson eText is a complete digital substitute for a print value pack at a lower price.
MyLab & Mastering ?
MyLab & Mastering products deliver customizable content and highly personalized study paths, responsive learning tools, and real-time evaluation and diagnostics. MyLab & Mastering products help move students toward the moment that matters most—the moment of true understanding and learning.
+ Other Options
eTextbook ?
With CourseSmart eTextbooks and eResources, you save up to 60% off the price of new print textbooks, and can switch between studying online or offline to suit your needs.
Once you have purchased your eTextbooks and added them to your CourseSmart bookshelf, you can access them anytime, anywhere.
Print Choices
Loose Leaf Version ?
Books a la Carte are less-expensive, loose-leaf versions of the same textbook.