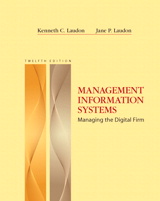 Description
For introductory undergraduate courses, and MBA-level MIS and Information Systems courses that want to integrate business with technology.
Laudon and Laudon continue to define the MIS course with their latest comprehensive text.
Management Information Systems, provides comprehensive and integrative coverage of essential new technologies, information system applications, and their impact on business models and managerial decision making in an exciting and interactive manner.
Table of Contents
Part 1: Organizations, Management, and the Networked Enterprise
Chapter 1: Information Systems in Global Business Today
Chapter 2: Global E-Business and Collaboration
Chapter 3: Information Systems, Organizations, and Strategy
Chapter 4: Ethical and Social Issues in Information Systems
Part 2: Information Technology Infrastructure
Chapter 5: IT Infrastructure and Emerging Technologies
Chapter 6: Foundations of Business Intelligence: Databases and Information Management
Chapter 7: Telecommunications, the Internet, and Wireless Technology
Chapter 8: Securing Information Systems
Part 3: Key System Applications for the Digital Age
Chapter 9: Achieving Operational Excellence and Customer Intimacy: Enterprise Applications
Chapter 10: E-Commerce: Digital Markets, Digital Goods
Chapter 11: Managing Knowledge
Chapter 12: Enhancing Decision Making
Part 4: Building and Managing Systems
Chapter 13: Building Information Systems
Chapter 14: Managing Projects
Chapter 15: Managing Global Systems


Purchase Info ?
With CourseSmart eTextbooks and eResources, you save up to 60% off the price of new print textbooks, and can switch between studying online or offline to suit your needs.
Once you have purchased your eTextbooks and added them to your CourseSmart bookshelf, you can access them anytime, anywhere.
Buy Access
Management Information Systems, CourseSmart eTextbook, 12th Edition
Format: Safari Book
$107.99 | ISBN-13: 978-0-13-214286-1