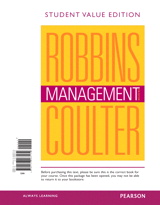 Description
Directed primarily toward undergraduate Management or Business college/university majors, this text also provides practical content to current and aspiring industry professionals.

This bestselling text vividly illustrates management theories by incorporating the perspectives of real-life managers. Throughout this text, readers will see and experience management in action, helping them understand how the concepts they're reading about work in today's business world.
Table of Contents
I. INTRODUCTION TO MANAGEMENT
1. Management and Organizations
Module. Management History
2. Understanding Management's Context: Constraints and Challenges
Management Practice - Part I
II. INTEGRATIVE MANAGERIAL ISSUES
3. Managing in a Global Environment
4. Managing Diversity
5. Managing Social Responsibility and Ethics
Management Practice - Part II
III. DECISION MAKING AND CHANGE
6. Managers as Decision Makers
7. Managing Change and Innovation
Management Practice - Part III
IV. PLANNING AND CONTROL
8. Foundations of Planning
9. Strategic Management
10. Managerial Controls
Module. Planning and Control Techniques
Module. Managing Operations
Management Practice - Part IV
V. ORGANIZING
11. Basic Organizational Design
12. Adaptive Organizational Design
13. Managing Human Resources
Module. Managing Your Career
14. Managing Teams
Management Practice - Part V
VI. LEADING
15. Understanding Individual Behavior
16. Managers and Communication
17. Motivating Employees
18. Managers as Leaders
Management Practice - Part VI
Appendix - Managing Entrepreneurial Ventures
Endnotes
Name Index
Organization Index
Glindex
This title is also sold in the various packages listed below. Before purchasing one of these packages, speak with your professor about which one will help you be successful in your course.
Package ISBN-13: 9780133499186
Includes this title packaged with:
Self Assessment Library 3.4
Stephen P. Robbins
$174.73 | Add to Cart