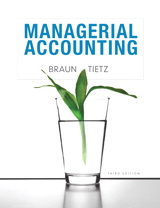 Description
For introductory, undergraduate Managerial Accounting courses.
Rock-solid decision-making through strong coverage and effective practice


Students interact with businesses every day–where they work, where they shop, even where they blog. At the core of these businesses are rock-solid managerial accounting fundamentals that students don't always see. Authors Wendy Tietz, Karen Braun, and Walter Harrison show the connection between accounting concepts and the businesses students interact with in their new text,
Managerial Accounting
. By presenting the accounting decisions made in companies like Target and J. Crew, this text's precise coverage of the core concepts gets students engaged in the learning process.
Table of Contents
Chapter 1: Introduction to Managerial Accounting
Chapter 2: Building Blocks of Managerial Accounting
Chapter 3: Job Costing
Chapter 4: Activity Based Costing, Lean Operations, and the Costs of Quality
Chapter 5: Process Costing
Chapter 6: Cost Behavior
Chapter 7: Cost-Volume-Profit Analysis
Chapter 8: Relevant Costs for Short-Term Decisions
Chapter 9: The Master Budget
Chapter 10: Performance Evaluation
Chapter 11: Standard Costs and Variances
Chapter 12: Capital Investment Decisions and the Time Value of Money
Chapter 13: Statement of Cash Flows
Chapter 14: Financial Statement Analysis
Chapter 15: Sustainability


Purchase Info ?
With CourseSmart eTextbooks and eResources, you save up to 60% off the price of new print textbooks, and can switch between studying online or offline to suit your needs.
Once you have purchased your eTextbooks and added them to your CourseSmart bookshelf, you can access them anytime, anywhere.
Buy Access
Managerial Accounting, CourseSmart eTextbook, 3rd Edition
Format: Safari Book
$126.99 | ISBN-13: 978-0-13-289131-8