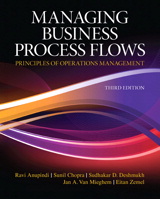 Description
For the core Operations Management course at the MBA level.


This unique and comprehensive book presents a unifying paradigm for understanding operations, based in the belief that a large part of operations management is the design and management of business processes. The overall objective of the book is to demonstrate how managers can control process structure and process drivers to achieve desired business process performance. This framework is applied to understand which levels managers have to control: cycle time, capacity, inventory, and quality.

Table of Contents
PART I: PROCESS MANAGEMENT AND STRATEGY
Chapter 1: Products, Processes, and Performance
Chapter 2: Operations Strategy and Management
PART II: PROCESS FLOW METRICS
Chapter 3: Process Flow Measures
Chapter 4: Flow-Time Analysis
Chapter 5: Flow Rate and Capacity Analysis
Chapter 6: Inventory Analysis
PART III: PROCESS FLOW VARIABILITY
Chapter 7: Managing Flow Variability: Safety Inventory
Chapter 8: Managing Flow Variability: Safety Capacity
Chapter 9: Managing Flow Variability: Process Control and Capability
PART IV: PROCESS INTEGRATION
Chapter 10: Lean Operations: Process Synchronization and Improvement


Purchase Info ?
With CourseSmart eTextbooks and eResources, you save up to 60% off the price of new print textbooks, and can switch between studying online or offline to suit your needs.
Once you have purchased your eTextbooks and added them to your CourseSmart bookshelf, you can access them anytime, anywhere.
Buy Access
Managing Business Process Flows, CourseSmart eTextbook, 3rd Edition
Format: Safari Book
$49.99 | ISBN-13: 978-0-13-215332-4