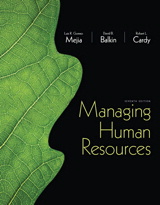 Description
Managing Human Resources prepares all future managers with a business understanding of human resource management skills. The non-functional HR approach used in this text also makes human resources relevant to anyone who has to deal with HR issues, even those who do not hold the title of manager.

This edition contains up to 600 new references, a new set of cases that address HR in small businesses, and coverage on the global economic crisis and it's impact on HR.


Table of Contents
Part I. Introduction
Chapter 1. Meeting Present and Emerging Strategic Human Resource Challenges

Part II. The Contexts of Human Resource Management
Chapter 2. Managing Work Flows and Conducting Job Analysis
Chapter 3. Understanding Equal Opportunity and the Legal Environment
Chapter 4. Managing Diversity

Part III. Staffing
Chapter 5. Recruiting and Selecting Employees
Chapter 6. Managing Employee Separations, Downsizing, and Outplacement

Part IV. Employee Development
Chapter 7. Appraising and Managing Performance
Chapter 8. Training the Workforce
Chapter 9. Developing Careers

Part V. Compensation
Chapter 10. Managing Compensation
Chapter 11. Rewarding Performance
Chapter 12. Designing and Administering Benefits

Part VI. Governance
Chapter 13. Developing Employee Relations
Chapter 14. Respecting Employee Rights and Managing Discipline
Chapter 15. Working with Organized Labor
Chapter 16. Managing Workplace Safety and Health
Chapter 17. International HRM Challenge


Purchase Info
ISBN-10: 0-13-272982-2
ISBN-13: 978-0-13-272982-6
Format: Alternate Binding
Digital Choices ?
MyLab & Mastering with Pearson eText is a complete digital substitute for a print value pack at a lower price.
MyLab & Mastering ?
MyLab & Mastering products deliver customizable content and highly personalized study paths, responsive learning tools, and real-time evaluation and diagnostics. MyLab & Mastering products help move students toward the moment that matters most—the moment of true understanding and learning.
+ Other Options