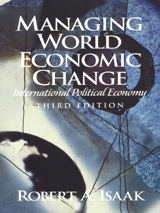 Table of Contents
I. CONCEPTS FOR MANAGING CHANGE.
Introduction.
1. Theories.
II. THE GLOBAL ENVIRONMENT.
2. The World Monetary System.
3. The World Trade System.
4. Multinational Corporations.
5. The North-South System.
6. Multinational Strategy, Direct Investment, and Technology.
III. DOMESTIC SOURCES OF NATIONAL ECONOMIC BEHAVIOR.
7. Life Chances, Class, Education, and Culture.
8. State Strategies and Stages of Development.
9. Industrial Policy, "Economic Miracles," and the Environment.
10. Post-Socialist Transitions.
IV. CYCLES, TRENDS, CONCLUSIONS.
11. Business Cycles and Capital Flows.
12. Globalization and Resistance.
Glossary.
Selected Bibliography.
Index.
This title is also sold in the various packages listed below. Before purchasing one of these packages, speak with your professor about which one will help you be successful in your course.
Package ISBN-13: 9780205703722
Includes this title packaged with:
MyLab Search without Pearson eText -- Valuepack Access Card
. . Pearson Education
$186.67 $177.34 | Add to Cart