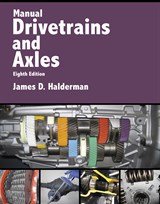 Description
Manual Drivetrains and Axles, 8/e, provides a complete, state-of-the-art source on the operating principles, as well as the service and repair procedures, for manual drivetrains and axles, and includes the practical skills that students must master to be successful in the industry. The book focuses on the generic theory that underlies the operation, diagnosis, and repair of the units and subassemblies found in the many makes and types of vehicles students will likely encounter in their careers. Formatted to appeal to today's technical trade students, Halderman uses helpful tips and visuals to bring concepts to life and guide students through the procedures they'll use on the job.
This book is part of the Pearson Automotive Professional Technician Series, which provides full-color, media-integrated solutions for today's students and instructors covering all eight areas of ASE certification, plus additional titles covering common courses. Peer reviewed for technical accuracy, the series and the books in it represent the future of automotive textbooks.
Table of Contents
Chapter 1 Service Information, Tools, and Safety 1
Chapter 2 Environmental and Hazardous Materials 39
Chapter 3 Introduction to Drivetrains 52
Chapter 4 Clutch Parts and Operation 69
Chapter 5 Clutch Diagnosis and Service 85
Chapter 6 Manual Transmissions Parts and Operation 105
Chapter 7 Manual Transaxle Parts and Operation 124
Chapter 8 Manual Transmission/Transaxle Diagnosis and Service 132
Chapter 9 Drive Shafts and CV Joints 162
Chapter 10 Drive Axle Shaft and CV Joint Service 174
Chapter 11 Wheel Bearings and Service 190
Chapter 12 Drive Axles and Differentials 210
Chapter 13 Drive Axle and Differential Diagnosis and Service 226
Chapter 14 Drivetrain Electricity and Electronics 255
Chapter 15 Four-Wheel and All-Wheel Drive 281
Chapter 16 Four-Wheel Drive Diagnosis and Service 304
Chapter 17 Vibration and Noise Diagnosis and Correction 320
Appendix 1 Sample ASE-Type Certification Test 335
Appendix 2 2013 NATEF Correlation Chart 339
Glossary 342
Index 349
Enhance your learning experience with text-specific study materials.
This title is also sold in the various packages listed below. Before purchasing one of these packages, speak with your professor about which one will help you be successful in your course.
Package ISBN-13: 9780134786490
Includes this title packaged with:
NATEF Correlated Task Sheets for Manual Drivetrain and Axles, 8th Edition
James D. Halderman
$173.32 $164.65 | Add to Cart