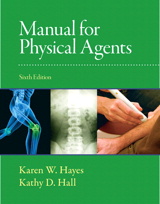 Description
For courses such as thermotherapy, hydrotherapy, electrotherapy, physical agents, or modalities, as part of education programs for physical therapists, physical therapist assistants, athletic trainers, clinics, and hospital physical therapy departments.
MANUAL FOR PHYSICAL AGENTS, 6/e is a core education resource for modern physical therapists, therapist assistants, and athletic trainers. It integrates concise summaries of the theoretical background and available evidence for each technique; step-by-step instructions presented generically, without brand names; and broad coverage of most current techniques. Designed for easy use, its lay-flat spiral binding remains open while students practice independently in laboratory sessions; concise tables provide fast access to essential information. This edition offers stronger focus on evidence-based practice; a new chapter on evaluating new interventions; new study and discussion questions; and extensive new topic coverage: from controlled cold compression to electrical stimulation for tissue repair.
Table of Contents
SECTION 1 Physical Agents
Chapter 1 Cryotherapy
Ice Pack
Commercial Cold Pack
Ice Massage
Cold Baths (Immersion)
Vapocoolant Spray
Controlled Cold Compression Unit
Chapter 2 Thermotherapy
Dry Heat Therapy (Fluidotherapy)
Hot Pack
Air-Activated Heat Wrap
Paraffin Bath
Chapter 3 Hydrotherapy
Whirlpool
Contrast Baths
Chapter 4 Pulsed Lavage with Concurrent Suction
Chapter 5 Ultrasound
Ultrasound
Phonophoresis
Chapter 6 Pulsed Shortwave Therapy
Chapter 7 Therapeutic Laser (Low-Level Laser Therapy)
Chapter 8 Ultraviolet Radiation
SECTION 2 Mechanical Agents
Chapter 9 Compression
Compression Bandage
Compression Pump
Compression Garment
Chapter 10 Mechanical Spinal Traction
Cervical Traction
Lumbar Traction
SECTION 3 Electrotherapeutic Agents
Chapter 11 Transcutaneous Electrical Nerve Stimulation
Chapter 12 Interferential Current
Chapter 13 Electrical Stimulation for Motor Activity
Chapter 14 Electromyographic Biofeedback
Chapter 15 Electrical Stimulation for Tissue Repair
Chapter 16 Iontophoresis
SECTION 4 Preparing for the Future
Chapter 17 Evaluation of New or Nonstandard Interventions in Physical Therapy
Appendices
Appendix A Electromagnetic Spectrum
Appendix B Laws Governing Dosage of Electromagnetic Radiation
Appendix C Suggested Responses to Discussion Questions
Appendix D Motor Point Charts
Appendix E Resources for Evidence-Based Practice
Purchase Info ?
With CourseSmart eTextbooks and eResources, you save up to 60% off the price of new print textbooks, and can switch between studying online or offline to suit your needs.
Once you have purchased your eTextbooks and added them to your CourseSmart bookshelf, you can access them anytime, anywhere.
Buy Access
Manual for Physical Agents, CourseSmart eTextbook, 6th Edition
Format: Safari Book
$42.99 | ISBN-13: 978-0-13-237437-8