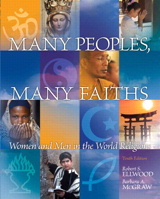 Description
Explore Religions of our World.
For more than three decades this introduction to the world's religions, Many Peoples, Many Faiths, has combined factual information with empathic writing that seeks to convey the flavor of our planet's diverse religions and cultures. This classic work helps students gain a sense of each religion's unique characteristics while tackling some of today's most critical religious issues. It is written in an engaging style and has been fully updated--with fresh insights and information on each of the world's major religions, along with new religious movements.
MyReligionLab is an integral part of the Ellwood program. Key learning applications include MyReligionLibrary, MyAtlas, and more than 50 videos to help students understand the content in the book.
Teaching & Learning Experience
This program will provide a better teaching and learning experience—for you and your students. Here's how:
Personalize Learning– MyReligionLab is an online homework, tutorial, and assessment program. It helps students prepare for class and instructor gauge individual and class performance..

Improve Critical Thinking – Chapter Objectives at the beginning of each chapter and Questions for Review at the end of each chapter help readers build critical thinking and study skills.

Engage Students - Helpful maps, timelines, summary information tables, and glossary guide student's learning.

Support Instructors – Teaching your course just got easier! You can create a Customized Text or use our Instructor's Manual, Electronic "MyTest" Test Bank or PowerPoint Presentation Slides.
This Book a la Carte Edition is an unbound, three-hole punched, loose-leaf version of the textbook and provides students the opportunity to personalized their book by incorporating their own notes and taking the portion of the book they need to class – all at a fraction of the bound book price.
Table of Contents
In this Section:
1) Brief Table of Contents
2) Full Table of Contents
---
Brief Table of Contents
Chapter 1: Understanding the World's Religious Heritage
Chapter 2: The Sacred in Nature
Chapter 3: Life against Time
Chapter 4: Wisdom Embarked for the Farther Shore
Chapter 5: Dragon and Sun
Chapter 6: One God, Many Words and Wonders
Chapter 7: Keeping Covenant with God in History
Chapter 8: Spreading the Word of God in the World
Chapter 9: Submitting to the Will of God
Chapter 10: Spirits Rising
---
Full Table of Contents
Chapter 1: Understanding the World's Religious Heritage
Chapter Objectives
A New Day of Religious Encounter
Visiting a Strange Land
Conditioned and Unconditioned Reality
Doors and Windows to the Ultimate
Forms of Religious Expression
Descriptive and Critical Approaches
Religion, Governance, and Political Life
Religion Through Time
Religion, Governance, and Political Life
Women in World Religions
Fundamental Features of Religions
Chapter 2: The Sacred in Nature
First Peoples and Indigenous Religion
Chapter Objectives
Encountering First Peoples' Indigenous Religion
The First Faiths
The Natural World in the Realm of the Sacred
Gods, Spirits, and the World
Initiation Rites of Men and Women
Shamans
Indigenous Tribal Religion of Ancient Europe and the Middle East
From Archaic Hunter/Gatherers to Agriculture and Its Effects on Religion and Culture
The Native Americans
Summary
Questions for Review
Suggested Readings on Prehistoric and Tribal Religions
Suggested Websites
Chapter 3: Life against Time
The Spiritual Paths of India
Chapter Objectives
The Face of India
The Hindu Tradition
The Practice of Hinduism Today
Hinduism, Governance, and Political Life
Women in Hinduism
Jainism
Sikhism
India in America
Summary
Questions for Review
Suggested Readings on the Religions of India
Suggested Websites
Chapter 4: Wisdom Embarked for the Farther Shore
The Journey of Buddhism
Chapter Objectives
A Religion of Transformation of Consciousness
The Life of the Buddha
Basic Buddhist Teaching
Theravada Buddhism
Mahayana Buddhism
Vajrayana (Tantric) Buddhism
Chan or Zen Buddhism
Pure Land Buddhism
Buddhism, Governance, and Political Life
Women in Buddhism
Buddhism in America
Summary
Questions for Review
Suggested Readings on Buddhism
Suggested Websites
Chapter 5: Dragon and Sun
Religions of East Asia
Chapter Objectives
The East Asian Spiritual World
Religion in China
Ancient China
The Dao–Foundational to Confucianism and Daoism
Confucianism
Daoism
Buddhism in China
Religion in Traditional China–A Syncretistic Practice
Religion in China, Governance, and Political Life
Women in Chinese Religion
The Influence of Daoism and Confucianism in America
Religion in Japan
Shinto
Buddhism in Japan
Confucianism in Japan
The Japanese "New Religions"
Religion in Japan, Governance, and Political Life
Women in Japanese Religion
Religion in Korea
Religion in Vietnam
Religion in Mongolia
Summary
Questions for Review
Suggested Readings on East Asian Religion
Suggested Websites
Chapter 6: One God, Many Words and Wonders
The Family of the Three Great Monotheistic Religions and Zoroastrianism
Chapter Objectives
The Nature of Monotheistic Religion
The Abrahamic Faiths
Zoroastrianism
Questions for Review
Suggested Readings on Zoroastrianism
Suggested Websites
Chapter 7: Keeping Covenant with God in History
The Unique Perspective of Judaism
Chapter Objectives
Jewish Uniqueness
The Ancient Story of Judaism
From the Second Temple to the Talmud
Medieval and Modern Judaism
Judaism in America
Jewish Beliefs
Jewish Life
Festivals and Practices
Judaism, Governance, and Political Life
Women in Judaism
Summary
Questions for Review
Suggested Readings on the Hebrew Scriptures and Judaism
Suggested Websites
Chapter 8: Spreading the Word of God in the World
The Growth of Christianity
Chapter Objectives
The Scope of Christianity
Jesus
The Early Jesus Movement
Paul
Varieties of Early Christianity
The Emergence of Normative Christianity
The Christian Triumph
The Foundations of Medieval Christianity
Medieval Christendom
The Reformation and Martin Luther King
Calvin
The English Reformation
Radical Reform
The Catholic Reformation
Christian Mysticism and Devotion
Eastern Orthodoxy
Roman Catholicism
Protestantism
Independent Christianities
Christianity, Governance, and Political Life
Christianity in America: A Wellspring of Denominationalism
Missionaries and the Modern Expansion of Christianity
The New Face of World Christianity
Women in Christianity
Christianity in the World Today
Summary
Questions for Review
Suggested Readings on Christianity
Suggested Websites
Chapter 9: Submitting to the Will of God
Building the House of Islam
Chapter Objectives
The Meaning of Islam
Muhammad
The Qur'an
The Five Pillars of Islam
Prayers and Mosques
Jihad
Historic Islam
Features of Classic Islam Civilization
Sunni Islam
Shi'a Islam
Islamic Mysticism
Islam, Governance, and Political Life
Islam in America
Women in Islam
Summary
Questions for Review
Suggested Readings on Islam
Suggested Websites
Chapter 10: Spirits Rising
New Religious Movements
Chapter Objectives
The World of New Religions
Types of New Religions
New Religions Around the World
Features of New Religious Movements
Summary
Questions for Review
Suggested Readings on New Religious Movements
Suggested Websites