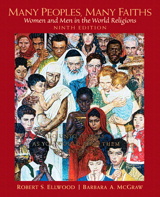 Description
For courses in World Religions, Comparative Religions or Introduction to Religion.
This classic work presents the world's religions in a way that captures the total human experience in a factual and empathetic manner. It helps students gain a sense of each religion's unique characteristics, while tackling some of today's most critical religious issues. It is written in an engaging style and fully updated--with fresh insights and information on each of the world's major religions, along with new religious movements.
Specific sections on women's roles in each of the world religions, the world religions in America, religion, governance, and public life are this text's special features. This text also includes a wealth of learning aids, including practical outlines that guide students in writing and researching papers, visits to religious sites, and information to help guide students in their online research.
Table of Contents
Brief Table of Contents:
1. Understanding the World's Religious Heritage.

2. The Sacred in Nature.
The Religions of Prehistoric and Tribal Peple

3. Life Against Time.
The Spiritual Paths of India

4. Wisdom Embarked for the Farther Shore.
The Journey of Buddhism

5. Dragon and Sun.
Religions of East Asia

6. One God, Many Words and Wonders.
The Family of the Three Great Monotheistic Religions and Zoroastriamism

7. Keeping Covenant with God in History.
The Unique Perspective of Judaism

8. Spreading the Word of God in the World.
The Growth of Christianity

9. Submitting to the Will of God.
Submitting to the Will of God

10. Spirits Rising.
New Religious Movements

11. Looking Over the Spiritual Horizon.
Religion Today and Tomorrow

Appendix: Studying World Religions.
Notes.
Glossary.
Index.

Purchase Info ?
With CourseSmart eTextbooks and eResources, you save up to 60% off the price of new print textbooks, and can switch between studying online or offline to suit your needs.
Once you have purchased your eTextbooks and added them to your CourseSmart bookshelf, you can access them anytime, anywhere.
Buy Access
Many Peoples, Many Faiths, CourseSmart eTextbook, 9th Edition
Format: Safari Book
$47.99 | ISBN-13: 978-0-205-65444-4