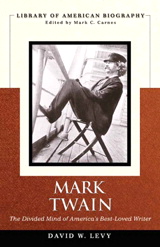 Description
The life and writings of a beloved American writer illuminate the Gilded Age and reveal his ambivalence toward the changes wrought by industry and wealth.


Like the steamboat on which Mark Twain adopted his pen name, the industrial growth that swept America in the latter half of the nineteenth century prompted Americans to react variously with delight, awe, fear, excitement for the future, and nostalgia for a simpler time. David Levy's biography places Mark Twain and his work in the context of sweeping societal changes: westward expansion, the Civil War, American imperialism, the end of slavery and start of a new chapter in race relations, and the advances and excesses of the Gilded Age.
Paperback, brief, and inexpensive, each of the titles in the Library of American Biography series focuses on a figure whose actions and ideas significantly influenced the course of American history and national life. In addition, each biography relates the life of its subject to the broader themes and developments of the times.
Table of Contents
Prologue

PART ONE: PREPARATION
Chapter One: Growing Up in Hannibal
Chapter Two: The Great Mississippi
Chapter Three: A Young Man Goes West
Chapter Four: Making God's Creatures Laugh
Chapter Five: A Cynic among the Pilgrims
Chapter Six: Livy

PART TWO: FAME
Chapter Seven: Hartford
Chapter Eight: A Writer of Remarkable Books
Chapter Nine: "The Best Book We've Had"

PART THREE: DESPAIR
Chapter Ten: A Writer Who Thought He Was a Businessman
Chapter Eleven: Writing His Way Out of Debt
Chapter Twelve: At The End, Dark Despair

Epilogue

Additional Course Materials