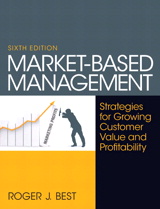 Description
Best is the book that focuses on marketing performance, marketing profitability, and the role marketing strategies play in building the profits of a business.
Table of Contents
Part I: Market Orientation and Marketing Performance
Chapter 1: Customer Focus, Customer Performance and Profit Impact
Chapter 2: Marketing Metrics and Marketing Profitability
Part II: Market Analysis
Chapter 3: Market Potential, Market Demand, and Market Share
Chapter 4: The Customer Experience and Value Creation
Chapter 5: Market Segmentation and Segmentation Strategies
Chapter 6: Competitive Position and Sources of Advantage
Part III: Marketing Mix Strategies
Chapter 7: Product Positioning, Branding, and Product Line Strategies
Chapter 8: Value-Based Pricing and Pricing Strategies
Chapter 9: Marketing Channels and Channel Mapping
Chapter 10: Marketing Communications, Social Media, and Customer RESPONSE
Part IV: Strategic Marketing
Chapter 11: Portfolio Analysis and Strategic Market Planning
Chapter 12: Strategic Offensive Strategies
Chapter 13: Strategic Defensive Strategies
Part V: Marketing Plans and Performance
Chapter 14: Building a Marketing Plan
Chapter 15: Marketing Metrics, Performance, and Strategy Implementation
Chapter 16: Market-Based Management and Financial Performance


Purchase Info ?
With CourseSmart eTextbooks and eResources, you save up to 60% off the price of new print textbooks, and can switch between studying online or offline to suit your needs.
Once you have purchased your eTextbooks and added them to your CourseSmart bookshelf, you can access them anytime, anywhere.
Buy Access
Market Based Management, CourseSmart eTextbook, 6th Edition
Format: Safari Book
$80.99 | ISBN-13: 978-0-13-038785-1