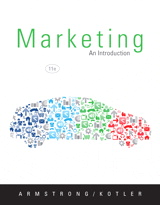 Description
This best-selling, brief text introduces marketing through the lens of creating value for customers.
With engaging real-world examples and information, Marketing: An Introduction shows readers how customer value—creating it and capturing it—drives every effective marketing strategy.
Table of Contents
Part 1: Defining Marketing and the Marketing Process
Chapter 1: Marketing: Creating and Capturing Customer Value
Chapter 2: Company and Marketing Strategy: Partnering to Build Customer Relationships
Part 2: Understanding the Marketplace and Consumers
Chapter 3: Analyzing the Marketing Environment
Chapter 4: Managing Marketing Information to Gain Customer Insights
Chapter 5: Understanding Consumer and Business Buyer Behavior
Part 3: Designing a Customer-Driven Strategy and Mix
Chapter 6: Customer-Driven Marketing Strategy: Creating Value for Target Customers
Chapter 7: Products, Services, and Brands: Building Customer Value
Chapter 8: New Product Development and Product Life-Cycle Strategies
Chapter 9: Pricing: Understanding and Capturing Customer Value
Chapter 10: Marketing Channels: Delivering Customer Value
Chapter 11: Retailing and Wholesaling
Chapter 12: Communicating Customer Value: Advertising and Public Relations
Chapter 13: Personal Selling and Sales Promotion
Chapter 14: Direct and Online Marketing: Building Direct Customer Relationships
Part 4: Extending Marketing
Chapter 15: The Global Marketplace
Chapter 16: Sustainable Marketing: Social Responsibility and Ethics
This title is also sold in the various packages listed below. Before purchasing one of these packages, speak with your professor about which one will help you be successful in your course.
Package ISBN-13: 9780133033106
Includes this title packaged with:
2012 MyMarketingLab with Pearson eText -- Access Card -- for Marketing: An Introduction, 11th Edition
Gary Armstrong, Philip Kotler
$233.33 | Add to Cart
Purchase Info
ISBN-10: 0-13-274403-1
ISBN-13: 978-0-13-274403-4
Format: Alternate Binding
Digital Choices ?
MyLab & Mastering with Pearson eText is a complete digital substitute for a print value pack at a lower price.
MyLab & Mastering ?
MyLab & Mastering products deliver customizable content and highly personalized study paths, responsive learning tools, and real-time evaluation and diagnostics. MyLab & Mastering products help move students toward the moment that matters most—the moment of true understanding and learning.
+ Other Options
eTextbook ?
With CourseSmart eTextbooks and eResources, you save up to 60% off the price of new print textbooks, and can switch between studying online or offline to suit your needs.
Once you have purchased your eTextbooks and added them to your CourseSmart bookshelf, you can access them anytime, anywhere.
Print Choices
Loose Leaf Version ?
Books a la Carte are less-expensive, loose-leaf versions of the same textbook.