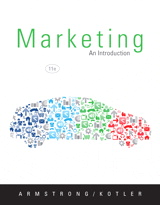 Description
This best-selling, brief text introduces marketing through the lens of creating value for customers.
With engaging real-world examples and information, Marketing: An Introduction shows readers how customer value—creating it and capturing it—drives every effective marketing strategy.
Table of Contents
Part 1: Defining Marketing and the Marketing Process
Chapter 1: Marketing: Creating and Capturing Customer Value
Chapter 2: Company and Marketing Strategy: Partnering to Build Customer Relationships
Part 2: Understanding the Marketplace and Consumers
Chapter 3: Analyzing the Marketing Environment
Chapter 4: Managing Marketing Information to Gain Customer Insights
Chapter 5: Understanding Consumer and Business Buyer Behavior
Part 3: Designing a Customer-Driven Strategy and Mix
Chapter 6: Customer-Driven Marketing Strategy: Creating Value for Target Customers
Chapter 7: Products, Services, and Brands: Building Customer Value
Chapter 8: New Product Development and Product Life-Cycle Strategies
Chapter 9: Pricing: Understanding and Capturing Customer Value
Chapter 10: Marketing Channels: Delivering Customer Value
Chapter 11: Retailing and Wholesaling
Chapter 12: Communicating Customer Value: Advertising and Public Relations
Chapter 13: Personal Selling and Sales Promotion
Chapter 14: Direct and Online Marketing: Building Direct Customer Relationships
Part 4: Extending Marketing
Chapter 15: The Global Marketplace
Chapter 16: Sustainable Marketing: Social Responsibility and Ethics
Purchase Info
ISBN-10: 0-13-274403-1
ISBN-13: 978-0-13-274403-4
Format: Alternate Binding
Digital Choices ?
MyLab & Mastering with Pearson eText is a complete digital substitute for a print value pack at a lower price.
MyLab & Mastering ?
MyLab & Mastering products deliver customizable content and highly personalized study paths, responsive learning tools, and real-time evaluation and diagnostics. MyLab & Mastering products help move students toward the moment that matters most—the moment of true understanding and learning.
+ Other Options