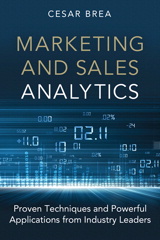 Description
PROFITING FROM MARKETING ANALYTICS: YOUR COMPLETE EXECUTIVE ROADMAP
"Solid ideas and experiences, well-told, for executives who need higher returns from their analytic investments. Captures many best practices that are consistent with our own experiences at Bain & Company, helping clients develop actionable strategies that deliver sustainable results."
–Bob Bechek, Worldwide Managing Director, Bain & Company
"Cesar has explored a complex subject in a clear and useful way as senior marketers look to more effectively leverage the power of data and analytics."
–Bill Brand, Chief Marketing and Business Development Officer, HSN, Inc.
"Loaded with meaty lessons from seasoned practitioners, this book defines the guideposts of the Marketing Analytics Age and what it will take for marketing leaders to be successful in it. Cesar Brea has provided a practical playbook for marketers who are ready to make this transition."
–Meredith Callanan, Vice President, Corporate Marketing and Communications, T. Rowe Price
"While the field has a lot of books on the statistics of marketing analytics, we also need insights on the organization issues and culture needed to implement successfully. Cesar Brea's Marketing and Sales Analytics has addressed this gap in an interesting and helpful way."
–Scott A. Neslin, Albert Wesley Frey Professor of Marketing, Tuck School of Business, Dartmouth College
To successfully apply marketing analytics, executives must orchestrate elements that transcend multiple perspectives and organizational silos. In Marketing and Sales Analytics, leading analytics consultant Cesar Brea shows you exactly how to do this.
Brea examines the experiences of 15 leaders who've built high-value analytics capabilities in multiple industries. Then, building on what they've learned, he presents a complete blueprint for implementing and profiting from marketing analytics.
You'll learn how to evaluate "ecosystemic" conditions for success, reconcile diverse perspectives to frame the right questions, and organize your people, data, and operating infrastructure to answer them and maximize business results. Brea helps you overcome key challenges ranging from balancing analytic techniques to governance, hidden biases to culture change. He also offers specific guidance on crucial decisions such as "buy vs. build?", "centralize or decentralize?", and "hire generalists or specialists?"
Whether you lead, practice, or rely on marketing analytics, this guide will help you gain more value–with less frustration.
Go beyond "My algorithm can beat up your algorithm" It's not about formulas, it's about cultivating conditions for success

Plan backwards, starting from desired business results Focus on value, not allure, hype, or sexiness

Orchestrate resources to ask better questions, answer them, and act Tackle any analytically intensive initiative– and get the results you're accountable for

Make the most of new "native" digital channels… ...and the rapid digitization of legacy channels, too
Table of Contents
Foreword x
Acknowledgments xii
About the Author xiv
Introduction 1
Why This Book 2
Who It's For 5
Where It Fits 6
How to Use It 7
How It's Organized 8
Part I Improving Your Odds: Eco-systemic Conditions for Analytic Success 11
Chapter 1 Strategic Alignment—First You Need to Agree On What to Ask 13
Framing Your Focus Beyond the Answer Itself 14
Three Perspectives for Marketing and Sales Analytics 15
Venus 16
Mars 17
Earth 19
Applying the Three Approaches 20
Reconciling Organizational and Cultural Perspectives 22
Packaging for Balance: "The Analytic Brief" 26
Visions for the Analytics Capability to Serve These Needs 27
Chapter 2 Access to Data—Too Often Taken for Granted 29
Getting to Data: Historical Models and Patterns 29
The Paleo-Analytic Era 29
The Meso-Analytic Era 31
The Ceno-Analytic Era 32
Modern Times 33
Moving Forward 34
Lenovo's "Analytic Maturity Model" 35
Building the Data Warehouse 37
The BENS "BRN" Story 38
Implications for Big Data Investments 40
(Aside: What's Big Data?) 42
Supporting Ad Hoc Approaches to Defining Data Requirements 44
Managing External Sources 46
Chapter 3 Operational Flexibility—Don't Analyze What You Can't Act On 49
A "Common Requirements Framework" 50
Targeting 51
Content 52
Channels 53
Analysis and Testing 54
A Summary Picture 55
What's Right for You? 55
Integrating Analytics into Operational Capability Planning 56
Chapter 4 People and Organization—Cultivate "Analytic Marketers" 59
Recruiting 60
Skill Mix 62
Developing 64
Organizing for Analytics 65
Part II Practical Analytics: Proven Techniques and Heuristics 71
Chapter 5 Practical Frameworks—For Getting On the Same Page 73
The Analytic Brief 73
Chapter 6 Practical Research—Beyond Studies for Studies' Sake 89
Chapter 7 Practical Analytics—Knowing When to Say When 95
Evaluating Performance 95
Do the Math 99
Proceed Iteratively 100
Interpolate Estimates 101
Model Iteratively 103
Assessing Solution Tradeoffs 104
Chapter 8 Practical Testing—An Underused Approach to Insight 107
Chapter 9 The Importance—and Limitations—of Storytelling 111
Chapter 10 Managing Bias—Like Air, Invisible and Everywhere 117
Part III Making Progress 123
Chapter 11 Managing Pace and Results—Momentum Is Strategic 125
"Time is the fire in which we burn" 125
Keeping Score 127
Investing in Capabilities vs. Harvesting Results 128
Chapter 12 Governance Models—Because Analytics Are Political 133
Chapter 13 "Culturelytics"—A Practical Formula for Change 137
Part IV Conversations with Practitioners 141
Chapter 14 Conversations with Practitioners 143
Paul Magill, Abbott 143
Doug Collier, La-Z-Boy Incorporated 147
Scott McDonald, Condé Nast Publications 154
Melanie Murphy, Bed Bath & Beyond 161
David Norton, MDC Partners, Harrah's 166
Rob Schmults, Talbots 171
Annemarie Frank, HSN 177
Judah Phillips, SMARTCURRENT 182
Latham Arneson, Paramount Pictures 190
Mohammed Chaara, Lenovo 193
Belinda Lang, Belinda Lang Consulting, Aetna 199
Thomas White, TIAA-CREF 206
Perry Hewitt, Harvard University 210
Todd Purcell, The Hartford 214
Ben Clark, Wayfair 219
Index 225
Purchase Info
Digital Choices ?
MyLab & Mastering with Pearson eText is a complete digital substitute for a print value pack at a lower price.
eBook (Watermarked) ?
Includes EPUB, MOBI, and PDF
This eBook includes the following formats, accessible from your Account page after purchase:
EPUBThe open industry format known for its reflowable content and usability on supported mobile devices.
MOBIThe eBook format compatible with the Amazon Kindle and Amazon Kindle applications.
PDFThe popular standard, used most often with the free Adobe® Reader® software.
This eBook requires no passwords or activation to read. We customize your eBook by discreetly watermarking it with your name, making it uniquely yours.