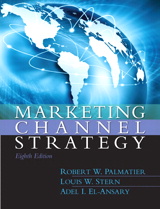 Description
For advanced undergraduate and/or graduate-level courses in Distribution Channels, Marketing Channels or Marketing Systems.
Marketing Channels shows students how to design, develop, maintain and manage effective relationships among worldwide marketing channels to achieve sustainable competitive advantage by using strategic and managerial frames of reference.
This program will provide a better teaching and learning experience—for you and your students. Here's how:
Bring Concepts to Life with a Global Perspective: Varied topics are covered, bringing in findings, practice, and viewpoints from multiple disciplines.

Teach Marketing Channels in a More Flexible Manner: Chapters are organized in a modular format, may be read in any order, and re-organized.
Keep your Course Current and Relevant: New examples, exercises, and research findings appear throughout the text.
Table of Contents
Brief Contents
Part I Introduction
Chapter 1 Understanding Channel Strategies 1
Part II Designing Channel Strategies
Chapter 2 End-User Analysis: Segmenting and Targeting 34
Chapter 3 Channel Analysis: Auditing Marketing Channels 53
Chapter 4 Make-or-Buy Channel Analysis 95
Chapter 5 Designing Channel Structures and Strategies 125
Part III Channel Structures and Strategies
Chapter 6 Retailing Structures and Strategies 163
Chapter 7 Wholesaling Structures and Strategies 206
Chapter 8 Franchising Structures and Strategies 232
Chapter 9 Emerging Channel Structures and Strategies 264
Part IV Implementing Channel Strategies
Chapter 10 Managing Channel Power 290
Chapter 11 Managing Channel Conflict 320
Chapter 12 Managing Channel Relationships 351
Chapter 13 Managing Channel Policies and Legalities 382
Chapter 14 Managing Channel Logistics 418
This title is also sold in the various packages listed below. Before purchasing one of these packages, speak with your professor about which one will help you be successful in your course.
Package ISBN-13: 9780134512358
Includes this title packaged with:
E-Commerce Essentials
Kenneth C. Laudon, Carol Traver
$364.00 | Add to Cart
Package ISBN-13: 9780134166018
Includes this title packaged with:
Electronic Commerce 2012: Managerial and Social Networks Perspectives, 7th Edition
Efraim Turban, David King
$407.93 | Add to Cart
Purchase Info
ISBN-10: 0-13-335708-2
ISBN-13: 978-0-13-335708-0
Format: Book
This publication is not currently for sale.