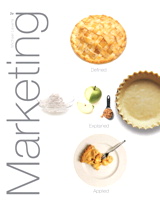 Description
A unique and easy-to-read breakdown of marketing information.
Marketing: Defined, Explained, Applied
was written from the ground up to be the most usable reference guide for understanding the principles of marketing. The unique visual and organizational style of the text clearly presents key information that draws readers into the material, allowing them to use their text–rather than passively read it.
The second edition features a new format that makes it easier for readers to study and learn the material.
0133879259 / 9780133879254 Marketing: Defined, Explained, Applied Plus 2014 MyMarketingLab with Pearson eText -- Access Card Package
Package consists of:
0132177153 / 9780132177153 Marketing: Defined, Explained, Applied
0133783197 / 9780133783193 2014 MyMarketingLab with Pearson eText -- Access Card -- for Marketing: Defined, Explained, Applied
Table of Contents
Chapter 1. The Meaning of Marketing
Chapter 2. The Market in Marketing
Chapter 3. Planning and Marketing in an Organization
Chapter 4. A Broader Perspective on Marketing
Chapter 5. Global Marketing
Chapter 6. Value for Customers
Chapter 7. A Perspective on Consumer Behavior
Chapter 8. Consumer Insight
Chapter 9. The Brand
Chapter 10. Segmenting, Targeting, and Positioning
Chapter 11. The Marketing Plan
Chapter 12. Product and Service Strategies
Chapter 13. Pricing Strategies
Chapter 14. Supply Chain and Distribution Strategies
Chapter 15. Retailing and Wholesaling
Chapter 16. Marketing Communications: Advertising and Sales Promotion
Chapter 17. Personal Selling and Direct Marketing Strategies
Chapter 18. Integrated Marketing Communications
Chapter 19. The Marketing Mix
Chapter 20. Marketing Measurement
Purchase Info
Digital Choices ?
MyLab & Mastering with Pearson eText is a complete digital substitute for a print value pack at a lower price.
MyLab & Mastering ?
MyLab & Mastering products deliver customizable content and highly personalized study paths, responsive learning tools, and real-time evaluation and diagnostics. MyLab & Mastering products help move students toward the moment that matters most—the moment of true understanding and learning.
+ Other Options
eTextbook ?
With CourseSmart eTextbooks and eResources, you save up to 60% off the price of new print textbooks, and can switch between studying online or offline to suit your needs.
Once you have purchased your eTextbooks and added them to your CourseSmart bookshelf, you can access them anytime, anywhere.
Print Choices
Alternative Options ?
Click on the titles below to learn more about these options.