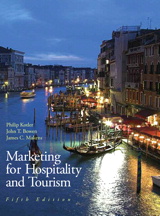 Description
For undergraduate/graduate-level courses in Hospitality and Tourism Marketing.
THE most widely used Hospitality marketing text–this four-color leader is comprehensive and innovative, managerial and practical, state-of-the-art and real-world. Building on the authors' expertise, it uses an integrative approach to discuss the major marketing decisions hospitality marketing managers face in today's global marketplace. Video cases, chapter examples and marketing highlights showcase real people and companies and demonstrate how marketing impacts every member of the hospitality team. Experiential exercises and new material on social networking, database marketing and revenue management help solidify the book's position as the definitive source for information on hospitality marketing.
Table of Contents
Table of Contents
PART I: UNDERSTANDING THE HOSPITALITY AND TOURISM MARKETING PROCESS
1. Introduction: Marketing for Hospitality and Tourism
2. Service Characteristics of Hospitality and Tourism Marketing
3. The Role of Marketing in Strategic Planning
PART II: DEVELOPING HOSPITALITY AND TOURISM MARKETING OPPORTUNITIES AND STRATEGIES
4. The Marketing Environment
5. Marketing Information Systems and Marketing Research
6. Consumer Markets and Consumer Buying Behavior
7. Organizational Buyer Behavior of Group Market
8. Market Segmentation, Targeting, and Positioning
PART III: DEVELOPING THE HOSPITALITY AND TOURISM MARKETING MIX
9. Designing and Managing Products
10. Internet Marketing
11. Pricing Products: Pricing Considerations, Approaches, and Strategy
12. Distribution Channels
13. Promoting Products: Communication and Promotion Policy and Advertising
14. Promoting Products: Public Relations and Sales Promotion
15. Professional Sales
PART IV: MANAGING HOSPITALITY AND TOURISM MARKETING
16. Electronic Marketing: Internet Marketing, Database Marketing, and Direct Marketing
17. Destination Marketing
18. Next Year's Marketing Plan
CASE STUDIES
GLOSSARY
INDEX
Purchase Info ?
With CourseSmart eTextbooks and eResources, you save up to 60% off the price of new print textbooks, and can switch between studying online or offline to suit your needs.
Once you have purchased your eTextbooks and added them to your CourseSmart bookshelf, you can access them anytime, anywhere.
Buy Access
Marketing for Hospitality & Tourism, CourseSmart eTextbook, 5th Edition
Format: Safari Book
$62.99 | ISBN-13: 978-0-13-508702-2