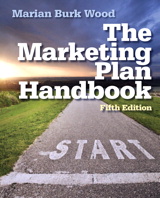 Description
Directed primarily toward undergraduate Marketing college/university majors, this text also provides practical content to current and aspiring industry professionals.

The Marketing Plan Handbook is the only planning handbook to guide readers, step-by-step, through the complete development of a realistic, customized marketing plan.
Table of Contents
Preface
1. Marketing Planning: New Pace, New Possibilities
2. Analyzing the Current Situation
3. Understanding Markets and Customers
4. Segmenting, Targeting, and Positioning
5. Planning Direction, Objectives, and Marketing Support
6. Developing Product and Brand Strategy
7. Developing Pricing Strategy
8. Developing Channel and Logistics Strategy
9. Developing Marketing Communications and Influence Strategy
10. Planning Metrics and Implementation Control
Appendix. Sample Marketing Plan: PretzL Elegance
Glossary.
Credits.
Index.
These online resources are available at no cost.
Companion Website for Marketing Plan Handbook, The, 5th Edition