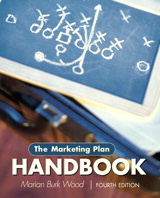 Description
For marketing courses that focus on creating a marketing plan.

A step-by-step guide to creating a customized marketing plan.

The Marketing Plan Handbook is the only planning handbook to guide readers, step-by-step, through the complete development of a realistic, customized marketing plan.

The fourth edition includes dozens of new examples, a new conceptual model, and current coverage of the latest developments found in marketing today.


Table of Contents
Chapter 1: Marketing Planning: New Urgency, New Possibilities
Chapter 2: Analyzing the Current Situation
Chapter 3: Understanding Markets and Customers
Chapter 4: Planning Segmentation, Targeting, and Positioning
Chapter 5: Planning Direction, Objectives, and Marketing Support
Chapter 6: Developing Product and Brand Strategy
Chapter 7: Developing Pricing Strategy
Chapter 8: Developing Channel and Logistics Strategy
Chapter 9: Developing Marketing Communications and Influence Strategy
Chapter 10: Planning Metrics and Implementation Control


Purchase Info ?
With CourseSmart eTextbooks and eResources, you save up to 60% off the price of new print textbooks, and can switch between studying online or offline to suit your needs.
Once you have purchased your eTextbooks and added them to your CourseSmart bookshelf, you can access them anytime, anywhere.
Buy Access
Marketing Plan Handbook, The, CourseSmart eTextbook, 4th Edition
Format: Safari Book
$35.60 | ISBN-13: 978-0-13-608938-4