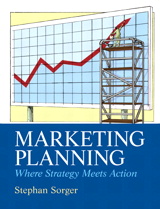 Description
"Marketing Planning: Where Strategy Meets Action" offers marketing students and professionals a practical, step by step guide to creating marketing plans that deliver measurable results. It presents a comprehensive framework for strategic marketing planning and outlines a structured approach for developing effective marketing plans. The approach uses numerous figures, checklists, and decision charts to leverage proven marketing techniques and market data for high quality marketing plans. The book is packed with current examples, culminating in a complete sample marketing plan that demonstrates the book's unique approach. The book is ideal for planning-related courses in upper-level undergraduate and lower-level graduate school programs, as well as for business executives seeking a competitive edge in the speed and quality of their marketing planning.

Table of Contents
Chapter 1. The Planning Process
Chapter 2. Objectives
Chapter 3. Market Overview
Chapter 4. Market Segments
Chapter 5. Competitive Landscape
Chapter 6. Strategy
Chapter 7. Products and Services
Chapter 8. Pricing
Chapter 9. Distribution
Chapter 10. Promotion
Chapter 11. Finance
Chapter 12. Implementation
Chapter 13. Sample Marketing Plans
Print
Add to Cart
$140.60 $133.57 | ISBN-13: 978-0-13-254470-2
Free Ground Shipping.