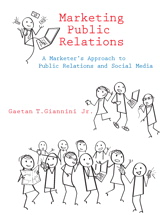 Table of Contents
An Introduction to Marketing Public Relations
Marketing Public Relations and the Marketing Communications Mix
Marketing Public Relations and the Organization it Serves
The MPR Framework - Objectives, Target, Connectors, Message & Measure
About the Media
Non-Media Connectors and Word-of-Mouth
Building a Connectors List
The Press Kit and Press Release
Selling the Story
Social Media
Events
Experts and Interviews
Crisis Management
Planning and Measuring

Appendix 1 Capstone Assignment
Appendix 2 Introduction to Blogs
Appendix 3 Beyond Blogs: RSS and Podcasts
Appendix 4 Staying Afloat in a Sea of Social Media
Appendix 5 Identifying Story Ideas
These online resources are available at no cost.
Companion Website for Marketing Public Relations
This title is also sold in the various packages listed below. Before purchasing one of these packages, speak with your professor about which one will help you be successful in your course.
Package ISBN-13: 9780134382326
Includes this title packaged with:
Writer -- ValuePack Access Card
Pearson Education, . . Pearson Education
$179.97 $170.97 | Add to Cart
Print
Add to Cart
$153.32 $145.65 | ISBN-13: 978-0-13-608299-6
Free Ground Shipping.