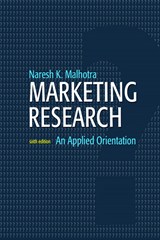 Table of Contents
PART I: INTRODUCTION AND EARLY PHASES OF MARKETING RESEARCH
Chapter 1 Introduction to Marketing Research
Chapter 2 Defining the Marketing Research Problem and Developing an Approach

PART II: RESEARCH DESIGN FORMULATION
Chapter 3 Research Design
Chapter 4 Exploratory Research Design: Secondary Data
Chapter 5 Exploratory Research Design: Qualitative Research
Chapter 6 Descriptive Research design: Survey and Observation
Chapter 7 Causal Research Design: Experimentation
Chapter 8 Measurement and Scaling: Fundamentals and Comparative Scaling
Chapter 9 Measurement and Scaling: Noncomparative Scaling Techniques
Chapter 10 Questionnaire and Form Design
Chapter 11 Sampling: Design and Procedures
Chapter 12 Sampling: Final and Initial Sample Size Determination

PART III: DATA COLLECTION, PREPARATION, ANALYSIS AND REPORTING
Chapter 13 Field Work
Chapter 14 Data Preparation
Chapter 15 Frequency Distribution, Cross-tabulation, and Hypothesis Testing
Chapter 16 Analysis of Variance and Covariance
Chapter 17 Correlation and Regression
Chapter 18 Discriminant and Logit Analysis
Chapter 19 Factor Analysis
Chapter 20 Cluster Analysis
Chapter 21 Multidimensional Scaling and Conjoint Analysis
Chapter 22 Structural Equation Modeling and Path Analysis
Chapter 23 Report Preparation and Presentation
Chapter 24 International Marketing Research

Running Case: Dell
Comprehensive Critical Thinking Cases
Data Analysis Cases with Real Data
Comprehensive Cases with Real Data
Comprehensive Harvard Business School Cases



This title is also sold in the various packages listed below. Before purchasing one of these packages, speak with your professor about which one will help you be successful in your course.
Package ISBN-13: 9781269913485
Includes this title packaged with:
Pearson Print Upgrade Valuepack Welcome Card
Pearson Learning Solutions
$28.13 | Add to Cart
Purchase Info
ISBN-10: 0-13-608543-1
ISBN-13: 978-0-13-608543-0
Format: Book
$244.20
We're temporarily out of stock, but order now and we'll send it to you later.
Back Order
Digital Choices
eTextbook ?
With CourseSmart eTextbooks and eResources, you save up to 60% off the price of new print textbooks, and can switch between studying online or offline to suit your needs.
Once you have purchased your eTextbooks and added them to your CourseSmart bookshelf, you can access them anytime, anywhere.