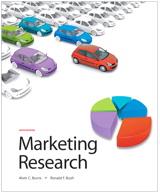 Description
For undergraduate marketing research courses.

The "nuts and bolts" of marketing research.

Marketing Research gives students a "nuts and bolts" understanding of marketing research and provides them with extensive information on how to use it. Written at a level first-time marketing research students understand, this text provides the basic fundamentals of the statistical procedures used to analyze data without dwelling on the more complex and intricate concepts.

The sixth edition now includes new case ideas contributed from innovative professors, updated insight from industry professionals, and current information on how marketing research is being practiced today.


Table of Contents
Chapter 1: Introducing Marketing Research
Chapter 2: Explaining the Marketing Research Process
Chapter 3: Describing Characteristics of the Marketing Research Industry
Chapter 4: Defining the Problem and Determining Research Objectives
Chapter 5: Understanding Research Design
Chapter 6: Using Secondary Data and Online Information Databases
Chapter 7: Comprehending Standardized Information Sources
Chapter 8: Utilizing Exploratory and Qualitative Research Techniques
Chapter 9: Evaluating Survey Data Collection Methods
Chapter 10: Understanding Measurement in Marketing Research
Chapter 11: Developing Questions and Designing the Questionnaire
Chapter 12: Determining How to Select the Sample
Chapter 13: Determining the Size of a Sample
Chapter 14: Dealing with Field work and Data Quality Issues
Chapter 15: Using Basic Descriptive Analysis
Chapter 16: Performing Population Estimates and Hypothesis Tests
Chapter 17: Implementing Basic Differences Tests
Chapter 18: Making Use of Associations Tests
Chapter 19: Understanding Regression Analysis Basics
Chapter 20: Preparing the Research Report and Presentation


Purchase Info ?
With CourseSmart eTextbooks and eResources, you save up to 60% off the price of new print textbooks, and can switch between studying online or offline to suit your needs.
Once you have purchased your eTextbooks and added them to your CourseSmart bookshelf, you can access them anytime, anywhere.
Buy Access
Marketing Research, CourseSmart eTextbook, 6th Edition
Format: Safari Book
$100.80 | ISBN-13: 978-0-13-602705-8