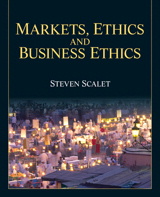 Description
Promotes a deeper understanding of markets, corporate responsibility and business ethics
Markets, Ethics, and Business Ethics provides an introductory discussion on basic, challenging concepts of business ethics: markets, property rights, law, and corporations.This title presents a balance of institutional perspectives and the concrete decisions people make within those institutions. The text studies the rules and incentives of a business system as well as the ethical decisions that people confront within their roles as consumers, investors, managers, owners, employees, and citizens.
MySearchLab is a part of the Scalet program. Research and writing tools, including access to academic journals, help students explore ethics in even greater depth. To provide students with flexibility, students can download the eText to a tablet using the free Pearson eText app.
Learning Goals
Upon completing this book, readers should be able to:
Assess arguments that respond to each other by either criticizing what has gone before or by developing themes in alternative ways.Recog

Debate any given topic by considering the structure of the best competing arguments for any given position

Critically assess leading controversies in business ethics
NOTE: MySearchLab does not come automatically packaged with this text. To purchase the text with MySearchLab, order the package ISBN:
0205887759 / 9780205887750 Markets, Ethics, and Business Ethics Plus MySearchLab with eText -- Access Card Package
Package consists of:
0205239927 / 9780205239924 MySearchLab with Pearson eText -- Valuepack Access Card
0205785840 / 9780205785841 Markets, Ethics, and Business Ethics
Table of Contents
BREIF TABLE OF CONTENTS
Introduction: The Approach of the Book, Chapter Previews, A Primer on Ethics
I. Basic Concepts
Chapter 1. Markets
Chapter 2. The Nature of Property
Chapter 3. Property Rights, Markets, and Law
II. Corporate Responsibility
Chapter 4. The Stockholder Theory of Corporate Responsibility
Chapter 5. The Stakeholder Theory of Corporate Responsibility
III. Efficiency and Welfare: The Most Common Ethical Guides in Business and Economics
Chapter 6. Efficiency and Well-being
Chapter 7. Public Goods and the Utilitarian Tradition
Chapter 8. The Invisible Hand: Balancing Ethics, Incentives, and Institutions
IV. Ethics Beyond Efficiency
Chapter 9. Freedom
Chapter 10. Rights
Chapter 11. Equality
Chapter 12. What People Deserve
Chapter 13. Relationships and Character
Chapter 14. Community and the Common Good
Enhance your learning experience with text-specific study materials.
Purchase Info
Digital Choices ?
MyLab & Mastering with Pearson eText is a complete digital substitute for a print value pack at a lower price.
MyLab & Mastering ?
MyLab & Mastering products deliver customizable content and highly personalized study paths, responsive learning tools, and real-time evaluation and diagnostics. MyLab & Mastering products help move students toward the moment that matters most—the moment of true understanding and learning.
eTextbook ?
With CourseSmart eTextbooks and eResources, you save up to 60% off the price of new print textbooks, and can switch between studying online or offline to suit your needs.
Once you have purchased your eTextbooks and added them to your CourseSmart bookshelf, you can access them anytime, anywhere.