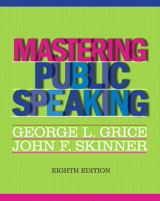 Description
Updated it its 8th edition, Mastering Public Speaking equips readers with a firm grounding in the "hows" and "whys" of public speaking by providing an ideal balance of theory and skills while placing important emphases on critiquing, ethics, and critical thinking. Written in a casual, lively style and clearly organized, the eighth edition of Mastering Public Speaking builds on its previous success. The first public speaking book to devote an entire chapter to ethics, the eighth edition continues its popular and distinctive emphasis on the ethical contract between speaker and listener.
Table of Contents
Chapter 1: An Introduction to Public Speaking 1
Why Study Public Speaking? 2
Definitions of Communication 4
Levels of Communication 6
Elements of Communication 9
The Public Speaker as Critical Thinker 12
• Theory into Practice: Thinking about Speaking 14
Chapter 2: The Ethics of Public Speaking 16
Definition of Ethics 18
Principles of Ethics 19
Ethical Speaking 20
Ethical Listening 23
Fair Use Guidelines 25
Plagiarism 26
• Theory into Practice: How to Avoid Plagiarism 30
Civility in the Classroom
Chapter 3: Speaking Confidently 32
Recognize That Speaker Nervousness Is Normal 34
Control Speaker Nervousness 37
Learn How to Build Speaker Confidence 37
• Theory into Practice: Gaining Perspective 42
Prepare Your First Speech 43
Chapter 4: Listening to Speeches 52
The Importance of Listening 55
Listening versus Hearing 55
The Process of Listening 57
Obstacles to Effective Listening 59
Promoting Better Listening 60
Speaking with Confidence: Jodie Moody Radford University
Theory into Practice:
Chapter 5: Analyzing Your Audience 74
Recognize the Value of Audience Diversity 76
Analyze Your Audience before the Speech 78
• Theory into Practice: Using an Audience Questionnaire 89
Analyze Your Audience during the Speech 88
Analyze Your Audience after the Speech 91
Chapter 6: Selecting Your Speech Topic 94
Generate Ideas 96
Research-Generated Topics 101
Select Your Topic
Focus Your Topic 102
Determine Your General Purpose 105
Formulate Your Specific Purpose 106
Word Your Thesis Statement 107
Chapter 7: Researching Your Topic
Assess Your Personal Knowledge
Develop Your Research Plan
Collect Your Information
Theory Into Practice: Evaluating Internet Resources
Record Your Information
Conclude Your Search
Chapter 8: Supporting Your Speech
Purposes of Supporting Materials
Types of Supporting Materials
Tests of Evidence
Citing Your Sources
Theory Into Practice: Information for Oral Footnotes
Chapter 9: Organizing the Body of Your Speech
Formulate an Organizing Question
Divide the Speech into Key Ideas
Develop the Key Ideas
Theory Into Practice: Applying the "4 S's"
Connect the Key Ideas
Chapter 10: Introducing and Concluding Your Speech
Organize the Introduction of the Speech
Organize the Conclusion of the Speech
Theory Into Practice: Outward Method of Speech Development
Chapter 11: Outlining Your Speech
Functions of Outlining
Principles of Outlining
Stages of Outlining
Theory Into Practice: Visual Brainstorming
Chapter 12: Wording Your Speech
Functions of Language
Principles of Effective Language Use
Theory Into Practice: Keys to Effective Oral Style
Chapter 13: Delivering Your Speech 224
Principles of Nonverbal Communication 226
Methods of Delivery 227
Qualities of Effective Delivery 230
Elements of Vocal Delivery 231
Elements of Physical Delivery 235
Theory into Practice: Dressing for Address 236
Chapter 14: Using Presentational Aids 242
The Importance of Using Presentational Aids 244
Types of Presentational Aids 246
Projection of Presentational Aids 252
Theory into Practice: Designing Visual Aids 254
Strategies for Using Presentational Aids 253
• Ethical Decisions: Fair Use or Copyright Infringement 257
Chapter 15: Speaking to Inform 260
Characteristics of a Speech to Inform 262
Informative Speech Topics 264
Guidelines for Speaking to Inform 271
Theory into Practice: Organizing Informative Speeches 272
Annotated Sample Speech: Renaissance Fairs: The New Vaudeville 276
Chapter 16: The Strategy of Persuasion 280
The Importance of Persuasion 282
A Definition of Persuasion 283
Types of Influence 283
Types of Persuasive Speeches 285
Persuasive Speaking Strategies 286
Theory into Practice: Developing Emotional Appeals 295
Chapter 17: The Structure of Persuasion 298
Making and Refuting Arguments 300
Types of Argument 302
Theory into Practice: Testing Your Arguments 309
Fallacies of Argument 309
Selecting Propositions for Persuasive Speeches 315
Monroe's Motivated Sequence 317
Annotated Sample Speech: Sustainable Giving 319
Chapter 18: Speaking on Special Occasions 324
The Speech of Introduction 326
The Speech of Presentation 327
The Acceptance Speech 329
The Speech of Tribute 330
The Speech to Entertain 331
The Impromptu Speech 334
• Theory into Practice: The Question-Answer Period 332
Chapter 19: Speaking in and as a Group 338
Small-Group Communication and Public Speaking 340
Small Groups Defined 340
Types of Groups 341
Group Discussion and Decision Making 342
The Group Presentation 350
Theory into Practice: Developing a Presentational Style 353
Appendix A: Giving and Receiving Criticism
Purchase Info
ISBN-10: 0-205-02939-6
ISBN-13: 978-0-205-02939-6
Format: Alternate Binding
Digital Choices ?
MyLab & Mastering with Pearson eText is a complete digital substitute for a print value pack at a lower price.
eTextbook ?
With CourseSmart eTextbooks and eResources, you save up to 60% off the price of new print textbooks, and can switch between studying online or offline to suit your needs.
Once you have purchased your eTextbooks and added them to your CourseSmart bookshelf, you can access them anytime, anywhere.